Do you love getting cash back on grocery purchases? Have a smart phone or computer? Reside in the U.S.? Want to earn $5 for free? Before you read further make sure to learn all about Checkout 51 and how to use it because you'll want to get in on the following deal while you can.
As of Thursday June 2 when you sign up as a first time user, using a referral link, you will receive $5 cash back after uploading your first receipt. That's $5 free for new users!
Not a new user? That's ok. Refer friends & family. For every new user you refer by June 15th, that uploads their first receipt by July 20th you will also earn $5 cash. They're calling it Give & Earn. The only catch is that it won't last long!
As stated in order to get the bonuses – referred members must sign up by June 15, and must upload their first receipt by July 20.
Follow These Instructions:
* Sign up for Checkout 51 using this referral link (you have to use a referral link to get your $5): http://c51.co/hXhA1qA1q (Per the Checkout 51 FB page: "Your friend needs to visit your referral page and sign up from that page either using the "Sign up with Facebook" button or "Sign up with Email" button. They can check that they are on your referral page because the page says "Join Monica and 7 million other members to start saving".)
* Checkout the deals they have to offer. New deals start every Thursday so don't fret if you can't redeem all the offers you want in one go. And remember you need only redeem one single deal to earn that extra $5.
* Upload your receipt & tell them which offers you purchased.
You just earned $5 for free. Once you get up to $20 you can cash out. Refer your own friends and family with your link & help them save as well and you can earn even more. You can find your link in the upper right hand corner of the app. Remember, you only have until June 15th to sign up or get your friends signed up but have until JULY 20th to redeem the first offer & get your first receipt uploaded.
Yes They Have Offers You Want & Need
Check out a small selection of this weeks offers: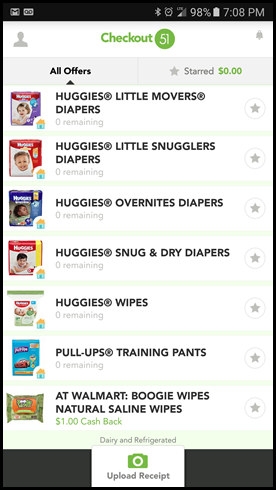 Happy Saving!
Sorry Canadians, this referral deal is only for those in the U.S.