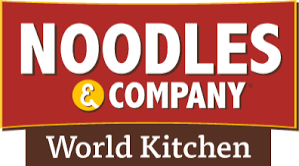 I recently met up with a group of local Michigan bloggers for a taste testing at Noodles & Company in Royal Oak, Michigan to check out the debut of two new salads. The Chicken Veracruz Salad & the Napa Market Salad with Chicken.
When I walked into the Noodles & Company on the corner of Main & 4th I was pleasantly surprised. It has great atmosphere. It's clean, well-lit, and it sits on the corner with large ceiling-to-floor window views on each side so you're able to people watch, which is always fun in a trendy upbeat city like Royal Oak. The manager was an absolute delight and able to answer just about any question he was presented with. The bathrooms were clean, and they even had one of those machines where you can choose your own flavor of drinks (I love those things!).
---
I sampled a ton of delicious noodle dishes over the course of the evening but our main focus was their two new salads, which did not disappoint.
Chicken Veracruz Salad
Mixed greens topped with Roma tomato, red onion, chili-lime chicken, crumbled naturally raised bacon, fresh-cut corn, tossed with Jalapeño Ranch dressing and crispy jalapeños, fresh California avocados and cilantro.
Calories:
Small: 300 Calories. Regular: 510 Calories.
The Chicken Veracruz was a tad bit spicy due to the jalapeno's, but the avocado, lime & tomatoes really help balance the salad. The chicken was absolutely delicious & I loved the crispiness of the bacon & corn.  The salad itself is a bit heavy so this could most definitely serve as a main course. Bonus: It can be made gluten-free & vegetarian if you like!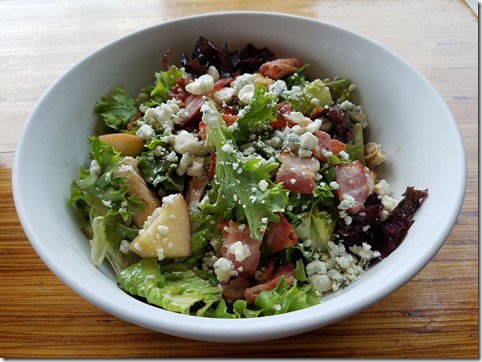 Napa Market Salad with Chicken
Mixed greens layered with Gala apple slices, Roma tomato and red bell pepper topped with pulled grilled chicken, bleu cheese and naturally raised bacon crumbles, tossed with pomegranate vinaigrette.
Calories:
Small: 300 Calories. Regular: 520 Calories.
This was my absolute favorite salad of the evening. I was really amazed at just how "light" the salad seemed. The pulled chicken was delicious and the crispness and beautiful color of the apples and bell pepper really bring the salad to life. Add to that the tangy bleu cheese, savory bacon, and the cooling effect of the pomegranate vinaigrette  and you have the perfect salad.
You can see all the beautiful colors of the Napa Market salad in the picture on the left. I don't normally like red bell peppers in my salads but they fit perfectly in the Napa Market Salad. The peppers were so bright & beautiful I almost mistook them for the apples!
Verdict:
While the Chicken Veracruz Salad is more suited as a main dish, the Napa Market Salad with Chicken feels so light you might want to consider pairing it with a side dish, like their delicious mac & cheese.
Tip: Order the large salad & save the leftovers for later. The large salad costs just over a dollar more than the small.
About Noodles & Company
They literally have something for everyone and most things are customizable so if you want to add broccoli to your mac & cheese, go ahead. Your dish is handmade when you order, customized how you like it, which means you can add to or take away from your dish, making it exactly what you want. They use organic tofu, cage-free eggs and antibiotic-free, hormone-free pork and bacon. No artificial flavors, colors, sweeteners, preservatives.  (Except for select beverages, cookies & rice crispies.) and if you have food allergies like my family you can find their ingredients online before you head out the door.  They also have plenty of choices for kids and even serve kids meals so it's the perfect spot for the family, or even date night. If you're super busy you can order online!
Whatever you do, next time you spot a Noodles & Company definitely stop in and check out their two new salads. You'll be pleasantly surprised.
---
Connect Online with Noodles & Company
Website: http://www.noodles.com/
Facebook: https://www.facebook.com/noodlesandcompany
Twitter: https://twitter.com/noodlescompany
Instagram: https://instagram.com/noodlescompany/
Pinterest: https://www.pinterest.com/noodlescompany/
Tumblr: http://yourworldkitchen.tumblr.com/
---
Giveaway
one free bowl a month for an entire year! As you can see from some of the bowls I sampled below they have PLENTY to choose from for the entire family. Just enter on the form below for your chance to win! (It will load after the collage). Good Luck! Giveaway goes live 6/23! and ends July 10th. (If you win you will be contacted by Amber from metrodetroitmommy.com)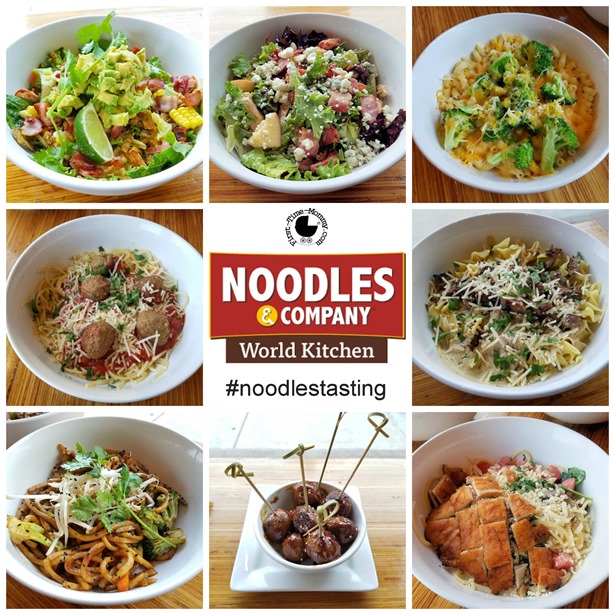 ---
Noodles and Company
---
Disclosure: A big thank you to Noodles & Company for allowing us to sample their menu free of charge and to Amber from metrodetroitmommy.com for getting us all together.  All opinions here are my own. Your experience may differ.