I've been a big fan of belVita Breakfast biscuits for a few years now. A friend that was babysitting for me had brought over an individual package and she inadvertently left them here. They were in my cupboard for a couple of weeks until I couldn't take it anymore and had to give them a try. My kids and I have been enjoying them ever since. My personal favorite are the Cinnamon Brown Sugar & Cranberry Orange varieties & my kids absolutely love the chocolate belVita bites. In fact I often send a bag to school with them for their daily snack. Once the kids are out the door I enjoy mine for breakfast. The cool thing about them is that they're quick, simple, and they're really good! but best of all, they provide 4 hours of steady nutritious energy when they're served alongside one serving of fruit & dairy.
belVita Breakfast Biscuits Come in a Variety of Styles and Flavors:

Crunchy: Blueberry, Cinnamon Brown Sugar, Cranberry Orange, Golden Oat, Toasted Coconut.
Soft Baked: Mixed Berry, Oats & Chocolate, Cinnamon, Banana Bread, Oats & Peanut Butter.
Bites: Chocolate, NEW Cinnamon Brown Sugar, Mixed Berry.
Sandwich: Peanut Butter, Dark Chocolate Crème. NEW Strawberry Yogurt, NEW Vanilla Yogurt
I know moms are always on the lookout for quick meals. Something they can stuff in their diaper bag or purse and pair up with a banana or cup of yogurt, string cheese, whatever it is you had the time to throw in there before you were out the door. belVita Breakfast Biscuits are perfect, and guess what. They're not just for breakfast. You'll know that the first time you try them!
Where to Find belVita Breakfast Biscuits
You can find them at your local Walmart in the cracker and cookie aisle!!
---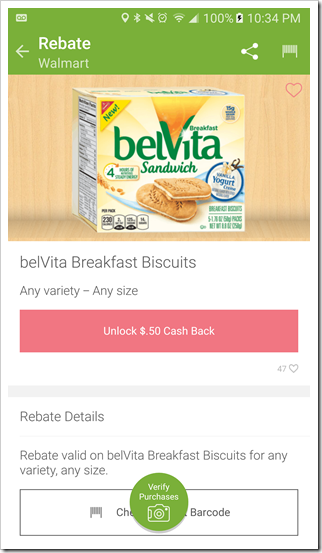 Save with Ibotta
You know what moms also love to do? Save money! Right now you can find a .50 rebate for belVita Breakfast Biscuits on Ibotta. Make sure you grab it before it expires on 1/15.