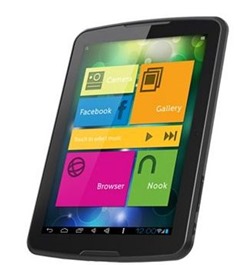 Why waste your money buying your kids a tablet that has limited abilities when you can buy one the whole family can use? I made that mistake last year when I bought 2 Innotabs that cost me a fortune. They were both broken within 8 months. One turns on & off & the other just doesn't work at all. That was with SUPERVISED use. They were also limited when it came to apps. You have to use THEIR website or buy cartridges. The thing that pulled me in was when they said you could keep track of your kid's learning on their website. Well, I signed up & was immediately notified that they had shut that part of the website down due to high demand after the holidays. ARE YOU SERIOUS?
Won't make that mistake again. I continued to let the kids play on my old androids with apps that I was able to download for free or close to. It's awesome when you go to the Doctors or the store and you can hand them something & keep them quiet & they are learning at the same time.
Here's how to get the same deal I did on the Polaroid Google-Certified S8 8-in. Android Tablet (reg $199)
Login or Sign Up to Ebates & search for Kohl's ( You will get 6% cash back if you shop through them plus a $10 gift card if you're new!)
Add the Polaroid Google-Certified S8 8-in Android Tablet to your cart ($119.99)
Use Coupon Code BLACKFRI save 15% off – ( –$18)
Receive $30 Kohl's Cash
Submit the $40 mail in rebate offer after you receive your package
Get approximately $6.11 back from Ebates
Receive your $10 gift card from Ebates
Total Price: $15.88
You'll get free shipping but you'll probably pay approximately $6.12 in taxes also which brings the GRAND TOTAL to: $22 – $32 depending on if you're new to Ebates.
YES it will take some time to get your rebate back & your gift card, but you'll get the Kohl's cash quickly & can use it within the next couple of days. So you will need to charge a little over $100 but in the end it will totally pay off AND SHOOT even if you paid $100 it's still a good deal.
Happy Shopping!