Everyone has their favorites when it comes to their families holiday spread. One of mine is this holiday stuffing. I love it so much in fact that the times I've eaten at other people's houses for the holidays I really feel like the day wasn't complete. Call me crazy for getting so attached to a stuffing recipe but what can I say, it really is that good. I'm a fan of mushrooms & onions, however, no one else in my household is. I still make this & they still eat it. Why? Well, somehow the flavors all meld together & out comes the best holiday stuffing you've ever tasted. I know that's a big claim but I'm standing by it!
This was an original recipe my mother came up with. I've changed it around a little bit & of course, you are welcome to do the same but whatever you do, don't skip the poultry seasoning, it won't be the same without it.
---
TIPS:
* You can usually find poultry seasoning at your local grocery store. Private Selection makes a good one (it's in a regular size glass jar) & so does McCormick's (its in a little plastic jar). If you absolutely can't find it then you can make your own. You'll need to experiment. It consists of: Thyme, Sage, Marjoram, Rosemary, Black Pepper, and Nutmeg.
*You can turn this into a vegetarian recipe very easily by simply substituting vegetable broth or stock.
*I make the below recipe for a 5 person family & eat the leftover stuffing for 3-4 days. It will serve 10-12 normally but there won't be leftovers, trust me!
---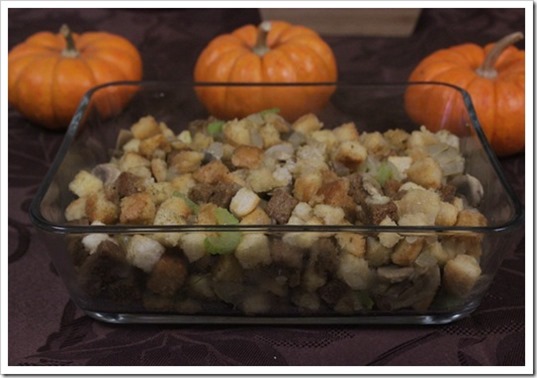 This stuffing has been mixed together & is cooling off before going in the bird.
[yumprint-recipe id='2′]