I participated in a Blog Blast Activation on behalf of Influence Central for GB. I received a promotional item to thank me for my participation.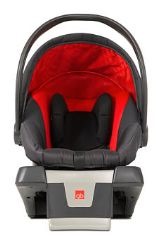 As a parent with a new baby, a car seats is one of the most important purchases you can make. It's exciting yet nerve wracking all in one because there are so many options out there to choose from and tons of information to sift through. GB places their priority on safety with the GB Asana35 AP Car Seat which features their unique 3-way FirmFit System to help give parent's peace of mind. The GB Asana35 AP features the following:
FirmFit Arm: helps achieve a better, tighter fit of the base to your vehicle with minimal effort.
FirmFit Load Leg: helps protect your baby's head, neck and spine by minimizing the amount of forward rotation in the event of a crash, protecting baby's delicate head, neck and spine. It also helps to decrease up to 50% of forces on baby by channeling crash energy to the floor of the vehicle. Now U.S. parents have access to this technology, which has been available in the European car seat market for years.
FirmFit Harness: fits around your little passenger without fuss! Simply pull the front strap to make the harness snug, and it conforms to the correct position on baby, every time.

The Asana35 AP also includes Advanced Side Impact Protection, push-button LATCH connectors, specialized insert for a premature baby, ergonomic handle and lightweight design. Learn more about GB and the Asana at http://gbchildusa.com/.
Connect with GB Online
---
GB Travel Safe Sweepstakes
As part of GB's effort to promote car seat safety and their recently launched Asana35 AP car seat, we will be hosting the GB Travel Safe Sweepstakes offering Moms a chance to win the following:
Weekly prizes of Babies R' Us gift cards
Each week participants will be randomly selected
2 winners each week will receive a $50 Babies R' Us gift cards
1 winner each week will receive a $100 Babies R' Us gift card
Grand Prize
$500 Babies "R" Us Gift Card
Second Prize
GB Asana35 AP Car Seat and GB Zuzu Stroller
Third Prize:
GB Asana35 AP Car Seat
Just complete the actions below for a chance to win!
---
GB Travel Safe Sweepstakes
Good Luck!