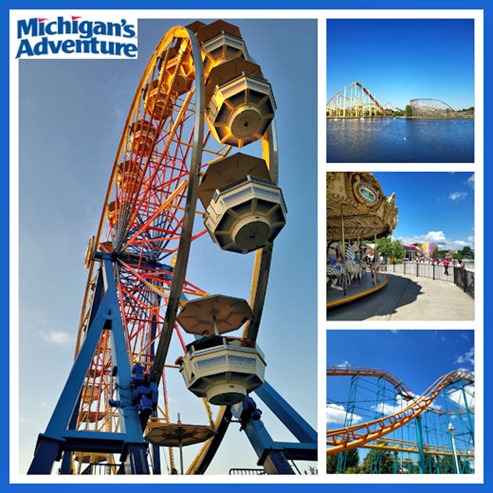 I haven't been to an amusement park since having kids, so when we were invited to check out Michigan's Adventure and Wildwater Adventure, an amusement & water park in Muskegon Michigan, and share our experiences with you, I was pretty excited. I figured this would be a real test to see if the kids were ready for a trip to Cedar Point, which coincidently is owned by the same parent company as Michigan's Adventure. Before we left I did a lot of research to get an idea of how we would manage our day at the two parks. I wanted to share some tips with you & fill in some gaps I noticed in other reviews to help make your own trip go smoothly, as well as familiarize you with everything Michigan's Adventure has to offer. It's a pretty awesome place & I think you'll love it just as much as we did.
This is probably one of the more thorough reviews of the park you will read. If you don't have time for that, you can skim over the highlighted text and then check out the gallery.
Disclosure: This is a sponsored post. All opinions and experiences here are my own. Yours may vary.
Hotels & Dining
One of the biggest obstacles we had to visiting Michigan's Adventure was finding a decent place to stay. We live over 3 hours away from Muskegon so I really had to rely on the online reviews to find a good place. Regretfully I waited to book our hotel until the week of our trip & quickly discovered that the prices were astronomically high. I was shocked. Prices ranged from around $150 for a motel with horrible reviews to over $300 for regular hotels we are typically used to staying in. A $300 hotel for a simple weekend trip is really out of the question. Michigan's Adventure have a list on their site of nearby hotels that you can check out. You'll want to do that and book your hotel as far in advance as you can.
Comfort Inn Whitehall, Michigan
In the end, I decided upon Comfort Inn in Whitehall, Michigan. I was able to use points towards the stay that I had won in a contest earlier this year & earn more points towards a $50 reward card (So sign up for their points program before paying because they always do deals like this). It was cheaper to book directly with them (I checked out SEVERAL deal sites).
Comfort Inn Whitehall was just off the highway and less than 5 miles from Michigan's Adventure. The staff was friendly & our room was impeccable. We had two double beds, a table, microwave, fridge, plenty of toiletries, and they were kind enough to bring us more bath towels, which I had requested before arriving. The cleaning staff did an excellent job tidying up our room while we were gone at the park all day. The hotel provides a hot/cold breakfast of waffles, cereal, bagels, juice, coffee, eggs, sausage, toast. I'm not going to say it's gourmet but it's more than enough to get your family going before hitting the road. One thing I also liked is that breakfast was from 6-10am even on the weekends. They also have a nice sized pool.
As far as outside dining goes, less than a half-mile down the road from the Comfort Inn were tons of places to shop & eat. They had several grocery stores, pharmacies & fast food restaurants. We were able to get two hot-n-ready pizza's from Little Caesar's for dinner (and saved the rest in our fridge for lunch on Sunday). I definitely recommend considering the Whitehall area if you're looking to stretch your dollars.
Parking & Tickets
When you first arrive at the park there are a TON of cars waiting in several lines. I have to admit I was a little worried. Our fears quickly dissipated though as we watched park goers on a wooden coaster, go up & down, screaming with delight. The kids started getting really excited because they'd never been that close to a roller coaster before. I also immediately noticed is that, the park is located in a deep woods sort of area with it's own lake, and Lake Michigan only a few miles down the road. It's such a beautiful & relaxing area & really represents a lot of what Michigan has to offer as a state. It's not like any other amusement park I've ever visited. Right from the star it has a very homey feel. Almost like a hometown carnival (but with better rides!) Parking will cost you around $10
Once you park your car you can head up to ticketing. If you're going in with a stroller (which we did) they have a special line for you. You'll also find customer service/relations right near ticketing so if you have any problems it's easy to get help. It seemed like most people had purchased their tickets online & had them already printed out so I advise on having your tickets in hand to make it easier. You can also purchase tickets directly at a Meijer store so look into that. Lines went through very quickly & efficiently. We were in, in less than 5 minutes although it was packed.
Dining Options Inside the Park
A lot of the reviews mentioned a lack of places to eat inside the park and that prices are incredibly high. You are able to get your hand stamped to go out to your car in the parking lot & get back inside the park (You cannot leave the parking lot) so it was suggested to bring your own food and eat inside your car. This is something you might want to consider. The reality I discovered after inside the park, though, was..…. who wants to eat a ton while riding amusement park rides anyway? Not me. So keeping a cooler in the car is not an absolute necessity. We noticed MANY places to eat inside the park and I was pleasantly surprised. There were pizza slices, fries, hot dogs, sausages, a couple sit-down restaurants with some awesome smelling food, and even burgers. Prices range from about $5-15.
What worked well for us was a combo. After hanging out in the amusement park for 3-4 hours we headed out to our vehicle to retrieve our towels & swimsuits. While doing that we took a breather, sat in the air conditioning for a few minutes, ate a half of a sandwich & had a juice box. We also replenished everyone's sunscreen & put together our game plan for the rest of the day. When we went back in we headed to the water park until it was almost close time (it closes before the amusement park, around 7pm) and then chose the little drive-in style restaurant to take a break & dry out after playing in the sun & water for many hours. The prices were somewhat high but our family of five was able to share an order of fries & onion rings for $12 so it wasn't too bad. They were delicious and there was plenty to go around.
Drinks
As far as drinks are concerned. You cannot bring your own drinks into the actual park. Bottles of water started at 3.99 but there are water fountains located throughout the park so it's really about what you find most convenient. What we did was invest in a souvenir cup (About 28-30 oz.) like you see in the picture to the left. The more you buy the cheaper. Because we bought two ours cost $12.99 a piece. Here's the great thing about it, because I know you're thinking wow that's expensive. You get free refills the entire day. Our family bought 2 (would have only bought one if I thought the kids wouldn't argue over it) and we filled them up with lemonade just about every hour. There are refilling stations located around the park. The staff scans your cup & then you're free to fill it up yourself or get it filled up with whatever is available. (Go to the places you can fill it up yourself, the wait is MUCH shorter.)
We refilled each of our souvenir cups at least 6 times each throughout the day so by purchasing the souvenir cups we saved ourselves over $25.00. You'd save even more if you had season passes. If you bring the cup back with you, you will only pay $1 for a refill, all season long. If you can make this trip more than once per season you should definitely check into getting seasons passes. There are many benefits.
Thrills of Every Size
So now that we got the basics covered and you know how to plan accordingly, let's get to the actual fun stuff. There are thrills of every size and for every size at Michigan's Adventure. Although if you have an infant you will be restricted a bit. When you're planning family trips like this it really is important to make sure there is something for everyone as it makes the trip so much more enjoyable. Another reason I loved this place. My 4 and 5-year-olds rode all the kiddie rides multiple times, and the 8-year-old even joined in once in a while (he loved the big rides!).
The little kids rode various car, motorcycle, airplane, boat rides & the elephant one as seen in the pic to the left. There was also big swan paddle boats you could go on out in the lake located in the center of the park. The middle of the road rides like bumper cars which they call Dodgem that the 5 & 8-year-old were allowed on, but not the 4-year-old were great because it gave the boys a sense of pride that they were a little older & they weren't just "little kids" still. Then, of course, there were the big rides. My 4 and 5-year-old actually braved the tilt-o-whirl. It was fun but pretty scary for them. The 8-year-old on the other hand was up for anything so us parents were able to take turns with him and enjoy quite a few rides ourselves! Our absolute favorite ride was Logger's Run!
Funland Farm
Want to know the kids favorite part of the park besides the Wildwater Park? Funland Farm. To commemorate the parks 60th anniversary they have a petting farm! My 8-year-old started sulking at first because he thought it was just a regular zoo. He wanted to go on all the rides & play the games & not much more..until he realized he was able to feed the animals and actually go inside some of their fenced in areas. Then, his entire attitude changed. I loved it because it only cost $1 for a cup of feed. The kids were able to actually pet quite a few goats, chickens, bunnies, deer, donkey and other animals. We stayed at the Funland Farm for a good 45 minutes & no one wanted to leave. Funland farm is only open until 5pm and is free with your entry to Michigan's Adventure.
WildWater Adventure
While my kids absolutely loved Michigan's Adventure, they really loved being able to stop in the middle of the day, go to the water park, and then come back to the amusement park. It really helps break up our day and make it more manageable. Us parents were able to actually sit and relax a little bit (Do moms ever truly relax?…).
Upon entering the water park you're greeted with this gigantic funnel, aptly named the Funnel of Fear. I have to admit I'm not that brave so I didn't try it out, although, maybe someday! When we first got into the WildWater Adventure we were overwhelmed by the sheer number of people. Fortunately, we quickly realized there were several areas you could go. The main wave pool was very busy but my 8-year-old and myself checked it out anyway and we could have stayed in there all day. It was so much fun and the water was warm! You can rent tubes & you're able to get life jackets as well.
Seeing that we had smaller kids with us we all headed over to what's called Half-Pint Paradise. There were two smaller water slides for little ones and even though my kids do not know how to fully swim very well all three of them braved those slides over and over for hours. There's a very shallow pool and there's a mixture of sun & shade so it's a great location for little ones. The funniest thing is, for the first time in maybe 20 years, I donned my bathing suit in public and had fun, just like the kids. I noticed that there were people there of all sizes, shapes, and colors and there were no judgmental eyes. Just lots and lots of people all having fun together and enjoying the summer. We loved every minute of our time there.
Games
There are games located throughout the park and most take cash so make sure to bring a few dollars to play. They average around $2 per person. The very first game we played my 8-year-old beat the entire family! You should have seen the look on his face. It made his day. The fun thing about some of the games is that the more people who play, the bigger prize that's up for grabs.
There are water shooting games, weight-guessing games, basketball games, ring toss, and many others. Our whole family played ring toss for $5, which gave us 50 rings. What I loved about the games is that they had TONS of Pokémon stuffed animals up for grabs! With PokemonGo now being as popular as it is, the competition was stiff. I will be back for that Charmander!
Other Things You Need to Know
Cell service is not very good in the park and there is no wifi available.
There are 2 gyms & 21 PokeStops but you'll be having so much fun doing other stuff you probably won't have time to catch Pokemon!
Bring your sunscreen with you. There are lots of shady areas in the park but it's easy to get burned when you're walking around all day.
There are designated smoking areas if you must.
100 Reasons Why
There are tons of reasons why you should visit Michigan's Adventure with your family. I highly suggest that if you're close enough, definitely pick up a season pass. You can check out the full list of 100 reasons why if our post didn't already convince you that you need to go. We're particularly fond of the following, all of which we did and more:
45. Ride your first coaster!
70. Fill your summer with memories to last a lifetime.
I hope our review helps you make the most of your trip to Michigan's Adventure & Wildwater Adventure. We only scratched the surface on all there is to do we don't want to ruin all the surprises! Above all, we want you to get out there and have fun with your kids and take a trip to remember! Check out our gallery to see a lot more pics! and make sure to check out the Michigan's Adventure website to see all they have to offer and order tickets.
Check out our most recent post & find out about changes in the 2017 season Right Here
---
Connect with Michigan's Adventure on Social Media
---
More about Michigan's Adventure
Michigan's Adventure is owned and operated by Cedar Fair Entertainment Company. In addition to Michigan's Adventure, Cedar Fair owns and operates 10 other amusement parks, three outdoor water parks, one indoor water park, and five hotels. Cedar Fair also operates the Gilroy Gardens Family Theme Park in California under a management contract.
---
Disclosure: This is a sponsored post. All opinions and experiences here are my own. Yours may vary.