We were recently invited to check out the Michigan Legoland Discovery Center, which is located inside the Great Lakes Crossing Outlets Mall in Auburn Hills, Michigan. It's brand new and opened in March 2016. Great Lakes Crossing Mall is easy to find and located near several reputable hotels right off I-75. It's filled with all of your favorite stores, in outlet form. The mall itself is huge so if you'd like to do any shopping you should definitely allot yourself extra time.
Also worth mentioning is that SeaLife Aquarium is located near the same area as Legoland Discovery so you can park right outside Sea Life & be near both locations. You'll definitely want to visit the aquarium. You can easily do both activities on the same day. In fact you can purchase your Sea Life Aquarium tickets at the same time you purchase your Legoland tickets and save a little money.
I'd plan on going into Legoland first and spending at least 3 hours if you have kids 4+. If younger you may want to spend less time if you're also seeing the aquarium. (Since younger ones tend to get over-stimulated a lot easier). Parking is FREE. If you don't have time to read our full review make sure you check out the gallery for a quick rundown!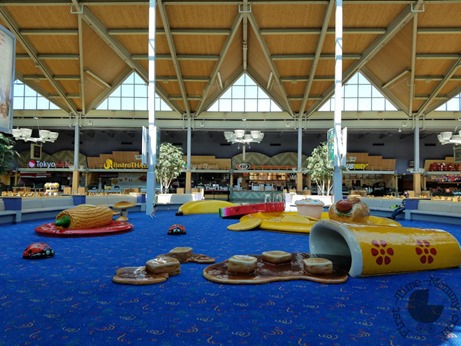 Places to Eat and Play Outside LegoLand
The courtyard of the mall has a big play area for children & there is a large assortment of eateries flanking both sides. I do mean large! You can get Japanese, Chinese, pizza, subs, macaroni & cheese, and a ton of other things at a pretty reasonable price. You can sit in the middle & enjoy your lunch or watch the children play at the play area. We found the best thing to do was to visit Legoland Discovery Center first, have lunch at the courtyard, let the kids play a little & then continue on to the Aquarium where it's a quieter atmosphere and everyone can wind down. The kids may also want to check out the carousel in the courtyard so plan on that! Either way you'll want to keep a close eye on your kids as the mall does tend to get very busy at times.
Eating & Seating Inside LegoLand Discovery Center
Once you enter Legoland you cannot leave and re-enter so you need to decide if you're going to eat before, after, or inside of Legoland. There is a café inside with healthy food & drink options available (think sandwiches) but the prices are a little steep. They're not bad though if you plan to spend the day inside there. My 8 & 5 year olds could have easily stayed 4 or 5 hours. The café seating area is located in the middle of the entire space so if you have older kids 5+ you could feasibly sit down & watch them from that location while you do a little work, read, or just take a break. Younger ones you might want to shadow.
There is no system where parents are matched up with kids by stamps/bracelets etc. so you will need to hover a bit but it's also nice to know that no adult is allowed entry into Legoland Discovery without a child. There is also a lounge area with more comfortable seating which is a perfect space for nursing moms and seating all around the kids place space area. Free WiFi as well, just look for the signs on the walls.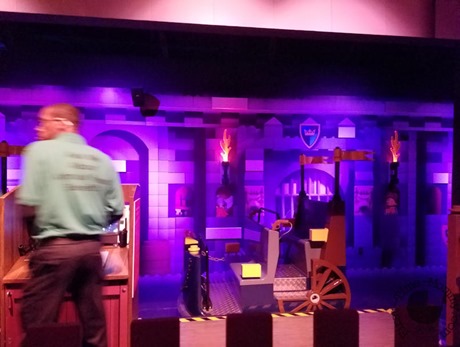 Kingdom Quest
I think our families favorite part of the entire experience was the Kingdom Quest ride. We rode it 3 times. You'll find it near the entrance and it will be one of the first things you do. The boys kept wanting to go back. We had 5 people seated together (plenty of room for the whole family). I don't want to spoil it, so I'll make it brief. It involves shooting a lot of bad guys. We had a fun little family competition going on because the area in front of your seat keeps score. Mommy won 2 out of 3. My 4 year old was a little scared at first because it is a little dark but once we showed her how to play she had a blast. In my opinion the ride is most fun for kids 2.5+ and if you have little ones in strollers, that's ok because there is stroller parking!
Detroit Lego City
After having fun on Kingdom Quest you move through Detroit Lego city! As an adult I loved the Lego city because all the places I've grown up with are represented. The Ren Cen, Downtown, Metro airport, Hitsville U.S.A.
There is something in the city for kids to do, as they're able to use controls connected to Ford Field (Detroit Lions football stadium) and make the players move. They can also play around with the bass, treble, volume at Hitsville U.S.A.
---
Check out my panorama of Detroit made out of Lego's

Merlin's Apprentice Ride
After you leave the miniature Detroit Lego City you head on in to the main area of the Discovery Center where you encounter the Merlin's Apprentice Ride. My boys absolutely loved this ride. I took them on separately because I was little worried they wouldn't behave if they were alone together. (You know how sibling competition goes). Adults sit in the seat closest to the middle, everyone buckles up & you peddle, peddle, peddle. The more you peddle the higher you go. The ride only lasts a couple of minutes so don't worry you won't work up a sweat, unless you want to!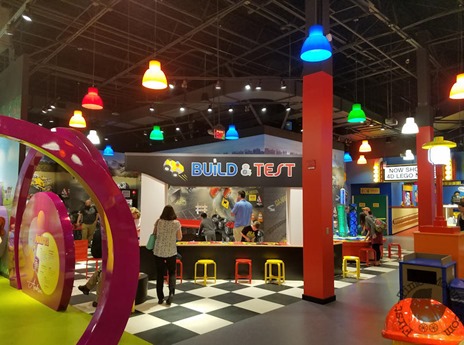 Lego's Lego's All Around
Once you've rode Merlin's Apprentice you've pretty much reached the center of the building. You find the seating & snack area we talked about above as well as a ton of areas where the children can dig into the actual Lego's and get to building something fantastic. The area's are broken up a bit. Some by age and you can definitely see more of them if you check out the gallery.
There's a range of exciting LEGO play areas including a brick pool, master classes from the LEGO Master Model Builder, special party rooms for birthdays and other celebrations, a 4D cinema and, Miniland. Miniland is a play area for the kids, complete with tunnels & things to crawl though so make sure they wear their socks that day!
Stock Up on LEGO!
Be prepared because upon leaving Legoland you must exit out through their store which is filled with all sorts of goodies the kiddo's will want. Pretty clever of Legoland I must say! I compromised and bought all the kids a keychain with a mini lego figure of their choosing. They put it on their backpacks for school so they could show all their friends.
Other Things You Need to Know
Legoland Discovery Center is currently open:
Monday – Friday 10am-9pm Sat 9am –9pm Sunday 9am –6pm
Weekends can be tremendously busy. I personally suggest early morning during the weekdays during summer (weekday afternoons all other times) for less crowds. The mall itself gets very busy so if you have little ones, bring their stroller. They can wander off really quickly & the mall is something like 1 square mile.
They have a free app that you can download to your iOS or Android Device. The app includes tons of build activities that you can do with your children to enhance your experience!
Legoland Discovery Center Michigan is a lot smaller than it seems. Remember the building is located inside of a mall, it's a center, not an amusement park, but it packs a lot of fun into that small area for the kids. Your kids can easily spend 4 or 5 hours there playing and building. If you are local, annual passes might be a good idea. There are a few perks that come with them!
---
I made a Facebook LIVE video the day I was there if you'd like to check it out. I started the video before I realized there was free wifi so my connection went in & out for a moment, please stick with the video as it gets better. Don't forget.. check out the GALLERY to see a lot more pictures & get a more in depth view of what Legoland Discovery Center – Michigan, has to offer. And of course visit the Legoland Discovery Website for much more info! (There are Legolands in other cities & countries as well!) Hope you have as much fun as we did!
---
Connect with Legoland Discovery Center Michigan on Social Media

---
ABOUT GREAT LAKES CROSSING OUTLETS
Great Lakes Crossing Outlets, Michigan's largest indoor regional outlet center and entertainment venue, is located at I-75 and Baldwin Road in Auburn Hills. It features 185 shops, restaurants and entertainment options, including manufacturer outlets, unique themed restaurants, a 1000-seat food court, the region's only SEA LIFE aquarium family attraction and a 25-screen, state-of-the-art theater megaplex – all situated in a single-level, easily accessible racetrack design. Shopping hours are 10 a.m. to 9 p.m. Monday through Saturday, 11 a.m. to 6 p.m. Sunday. Holiday hours vary. Preview the stores, the styles and the sales at www.greatlakescrossingoutlets.com or call 877-SHOP-GLC for more information.