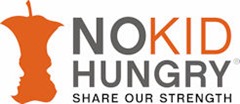 All across America, families are struggling with hunger and children are among the hardest hit. No Kid Hungry is working to end childhood hunger in the U.S. They have partnered with Williams-Sonoma to help connect kids in need to nutritious food and teach families how to cook healthy, affordable meals.
Some of the top personalities in the country have designed limited-edition Williams-Sonoma spatulas to benefit No Kid Hungry. Williams-Sonoma will donate 30% of the retail price from each spatula purchased to No Kid Hungry PLUS an additional $5,000 on behalf of the designer whose spatula sells out first!
Chrissy Teigen is among the personalities who dedicated their time and inspiration to this campaign explaining, "My spatula design is symbolic for the most important meal of the day: Breakfast! Everybody deserves a bright start to their day so let's support No Kid Hungry and work together to end childhood hunger in America".
Also a part of this campaign is Ayesha Curry, wife of NBA MVP Stephen Curry, has made a name of her own with a successful blog, and YouTube channel all dedicated to her love of food, family, faith & the joy of eating well. She explained her inspiration behind her spatula design: "Balanced eating is so important to my family. I started working with No Kid Hungry because making sure that families and children have access to nutritious and affordable food is a cause I care deeply about. With my Williams-Sonoma spatulas, it's Thyme to Cook, and it's thyme to make a change!"
Danica Patrick explained her involvement by stating, "I was a part of the Williams-Sonoma "Tools for Change" program last year and I'm so honored to be a part of it again. The spatulas are all really cute and I had a lot of fun designing mine. They're such useful tools that people can use every day and it's great that they allow us all to cook in support of a great cause like No Kid Hungry."
Other personalities who have created their own spatulas include Jimmy Kimmel, Giada Di Laurentiis, Ina Garten, Trisha Yearwood, Michael Voltaggio and the American Girl Doll.
So far the American Girl Doll spatula and Trisha Yearwood's spatula are my absolute favorites!! What about you?? Which one is your fav?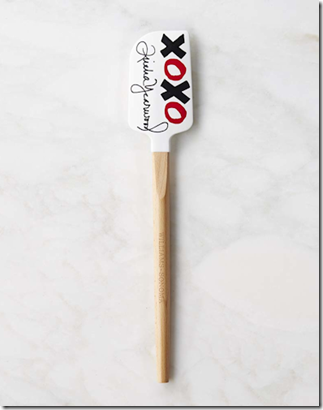 You can purchase one of these awesome spatula's at your local Williams Sonoma in store or online at http://www.williams-sonoma.com You'll also be helping to put an end to childhood hunger. You can learn more about No Kid Hungry at Nokidhungry.org