I used to be pretty bad at cooking too much food at one time, or buying too many fruits & veggies & then not eating them before they spoiled. I try to lead by example when it comes to my children so within the past couple of years I've made a conscious effort to waste less, and eat healthier.
This chicken stock recipe is super easy because after you've removed as much meat off your rotisserie or roasted chicken as you can, you throw the leftover bones, skin, and any liquids in your crockpot and let it go. Added paprika turns it into a beautiful golden color that's pleasing not only to the eyes, but taste buds as well.
Part of this post includes sponsored content. All opinions, recipes, and text here are my own. Your experience may vary
Crockpot Golden Chicken Stock
Ingredients:
4-5lb roasted or rotisserie chicken carcass & any juices, fat, or skin.
2 stalks of celery 1/2 large onion with skin ON (cut in half)
2 large carrots (chopped) or 1 cup of baby carrots (no need to peel)
1 tsp. black pepper
2 tbsp. paprika
12 cups water
Instructions:
Throw all ingredients into your crock pot, fill with 12 cups water. Make sure you have removed most of the meat from the chicken (set that aside for use later). Turn crockpot on high for no longer than 8 hours.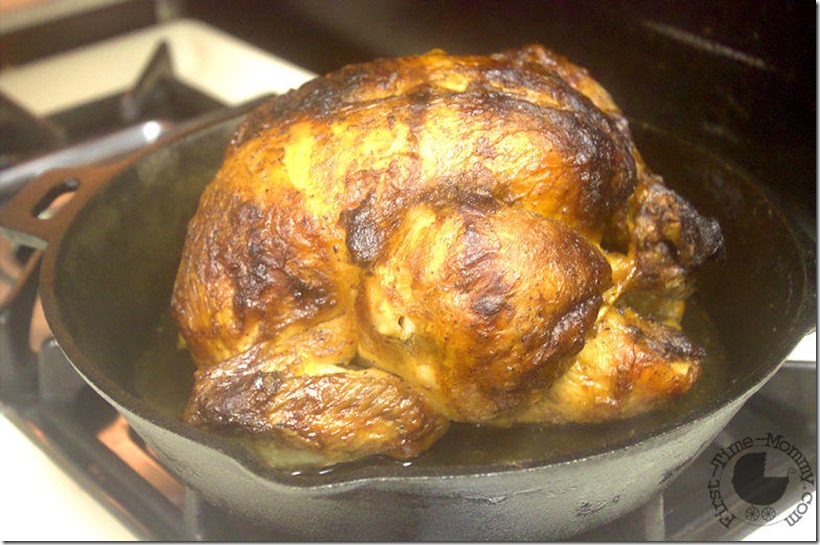 After the 8 hours turn your crockpot off, put a colander in a very large bowl or pot, strain out all the contents of your crockpot so that you're left with only broth. Discard everything but the broth. You don't want to keep any of the meat as it will be completely devoid of flavor. You can then take a fine mesh strainer & strain the broth to remove most of the smaller particles you might have missed.
Your 12 cups of water will have cooked down to around 4 to 5 cups of stock. It's super condensed & super flavorful. (If you use the low setting it can take over 24 hours & will be nowhere near as condensed.)
Put your bowl in the fridge or set on the counter top for approximately half an hour and let any fat or oils rise to the top. A skin will form that you can remove with a spoon. Now your stock is ready to use.
Put Your Stock to Use
Now you're left with a delicious, golden chicken stock that is a perfect starter for tons of dishes such as chicken & dumplings, chicken noodle soup, chicken pot pie, homemade ramen. It's also great for boiling potatoes or you can use 1 cup of broth with 1/2 cup of milk and a teaspoon of cornstarch to make your own gravy that's way better than store bought & is not filled with enormous amounts of sodium & tons of fat. The best part about this broth is that it contains no added msg or preservatives. Of course it's so good you can just drink it as is if you want. It's perfect for when you get the sniffles.
Saving Your Stock
Because your broth contains very little fat you'll want to divide it up into freezer containers & freeze it. However, it can be stored in the fridge for 2 to 3 days if you plan to use it right away. I usually put half mine in the freezer & half in the fridge, which I use for freezer meals (along w/ any leftover rotisserie chicken meat). Of course you can always can it as well but you'll need to be familiar with safe canning methods.
The jar seen in the picture is holding approximately 4 cups of broth.
Tips & Tricks
Keep any leftover carrot tops, pieces of celery & their leaves, as well as onion skins that you use throughout the week in a ziploc bag in the freezer or fridge so that you can use those in your stock at a later time! The onion skin actually contributes to making the stock a deeper, more appealing golden color.
Make things simpler for yourself like I do, by picking up a rotisserie chicken, at Meijer if you live near one. We get a rotisserie chicken & then eat the chicken that night & use the bones to make broth. The next day I'll use any leftover chicken & my broth to make a freezer meal, like chicken stew. This way I'm always a little bit ahead of the game. You can also get a raw chicken & roast it yourself. The paprika & spices you use on the skin will help flavor your broth later on.
Make sure to stack your grocery store apps like Ibotta & checkout51 with mPerks to save the most! After money back from using all three apps, my chicken & the stock were completely free.
---
If you live near a Meijer store you can get everything you need there, including jars or freezer containers. Make sure you read my guide on how to use their mPerks app/program so that you're making the most of your money. –> Meijer mPerks101: How to Download Use and Save it's definitely worth the time!
---
Happy Eating!
Part of this post includes sponsored content. All opinions, recipes, and text here are my own. Your experience may vary