Do you love OREO cookies? If you don't you probably know someone who does. Many years ago a good friend of mine surprised me during the holidays with OREO cookies on a stick, dipped in chocolate. Hello heaven.. I took my friends memorable idea & added my own twist to it once I had kids. We stock up on OREO at our local Walmart whenever they're on sale. When the holidays arrive I dip them in white chocolate & then the kids decorate them to look like snowmen. We put them in the fridge to harden & later put them in clear plastic gift bags for presents. You'd be amazed how three little cookies can bring such a smile to someone's face!
Read below to find out how to stack an Instant OREO coupon with a current Ibotta deal to get big savings!
Of course our personal favorite OREO for the holidays are the red and the mint.. You can't deny how festive they look!
#SnackandSave
Want to save big on your favorite OREO cookies from your local Walmart, right now? Whether you're into decorating them for the holidays or you just love snacking on OREO cookies, everyone loves a deal! You can get a package for only $1.98 if you do the following:
Look for OREO packages at Walmart with an IRC (otherwise known as Instant Redeemable Coupon). I like to call them peelies. We found our peelies on Double-Stuff OREO but they can be used on any type so long as it's a package 10.5 oz or larger. This is what they look like: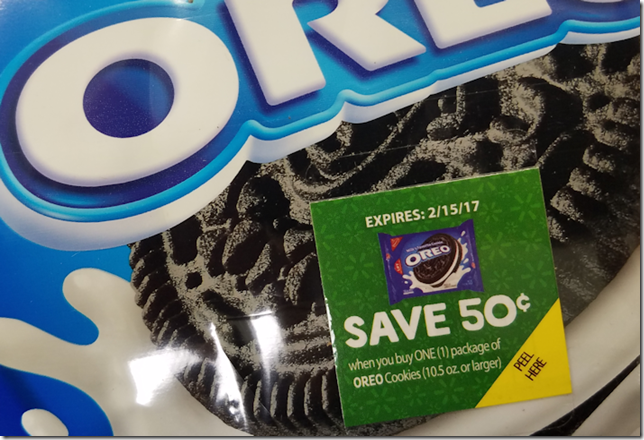 In our local Walmart I found OREO located in three different areas. Sometimes they're displayed like the pic below, as well as on a shelf with all the other cookies, or you can find special displays in the middle aisle's of the store! So keep your eyes open. The instant coupons on packages will probably go fast!
Instant Coupon + Ibotta = Savings
Once you've found your OREO package with the instant coupon of .50 off make sure to use it at the register
When you get home you can use Ibotta (which is a savings app) for yet ANOTHER .50 off, bringing the final price down to around $1.98 Don't know how to use Ibotta? I've been using it for years. Learn more, Read This
You can find the Ibotta deal right here: https://ooh.li/17f7d0c
P.S. You have until 11/30/16 for the Ibotta deal & the instant coupon is good until well after the holidays! It's that simple!
Happy Snacking!