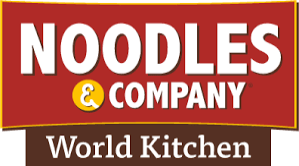 I recently met up with a group of fellow Michigan bloggers for a taste testing event at Noodles & Company in Royal Oak, Michigan to check out the debut of two new dishes. Thai Green Curry & Pork Adobo. I've been to this Noodles & Company in the past, it's a beautiful location right in the heart of the city. If you'd like to learn more about this particular location feel free to read my original review and check out a few pics so you know what to expect.
I sampled many dishes over the course of my stay but our main focus were the two newest dishes.
Thai Green Curry with Shrimp
Shrimp with a sweet coconut green curry sauce, rice noodles, pineapple, broccoli, red onion, snap peas, lime, black sesame seeds and cilantro.
Calories:
Small: 540 Regular: 970
If you like a little spice you're going to love the new Thai Green Curry with Shrimp. For those of you familiar with curry you'll know that green curry is spicier than the more mild yellow curries and that's definitely the case with this dish. Although not the hottest selection on the menu you can certainly taste the spice. The rice noodles are done to perfection & when paired with pineapple & a host of vegetables it helps to add just the right amount of sweetness to balance out the dish. With the edition of shrimp, sesame seeds & a squirt of lime, you're left with a pretty delightful taste combination.
Pork or Chicken Adobo
Slow-braised pork with cavatappi noodles in a smoky adobo sauce, red onion, mushrooms, olives, sour cream, lime and cilantro.
Calories
Small: 560 Regular: 980 (pork – see website for chicken info)
Another spicy dish, this one a little spicier than the last. The new Pork or Chicken Adobo contains a smoky adobo sauce, which is Latin-inspired. If you're not familiar with adobo, the word itself is Spanish for: marinade, sauce, or seasoning. In this dish the adobo is definitely the star. This dish is a bit spicier than the Thai Green Curry but in a different way, it's more of a warm smoky heat. When you pair pork or grilled chicken with the heavier cavatappi noodles & the adobo sauce you get a hearty & savory dish that's incredibly filling. To mute out a little bit of the heat it also comes with sour cream, and if you want to brighten it up a bit, a hint of lime. I couldn't really taste the red onions & the olives were there but weren't not as pronounced as the mushrooms as far as flavor goes. I found this dish to be very unique. It's not something I've had before. If you like spice you'll love this dish. If you don't, it's still worth trying but definitely don't skip the sour cream!
About Noodles & Company
If you've never been to Noodles & Company it's definitely worth stopping by. They offer a variety of noodle dishes, salads, soups, and appetizers (which they call shareables). They use fresh ingredients, including 14 different fresh vegetables along with other high-quality ingredients including cage-free eggs; organic milk and tofu; and naturally raised pork, bacon and meatballs. Their dishes are fully customizable as well! You order in the front when you come in & servers bring the finished dishes right to your table. They also serve kid friendly meals where you get to choose an entrée, drink & two side dishes for around $5. So it's very reasonably priced! It's a very relaxed atmosphere. If you're busy & don't want to eat inside you can order online & pickup later. Lastly the one thing I really love about Noodles & Company is if you sign up for their eclub you often receive a coupon for buy 1, get 1 bowl of noodles so make sure you do that!
Connect Online with Noodles & Company
Website: http://www.noodles.com/
Facebook: https://www.facebook.com/noodlesandcompany
Twitter: https://twitter.com/noodlescompany
Instagram: https://instagram.com/noodlescompany/
Pinterest: https://www.pinterest.com/noodlescompany/
Tumblr: http://yourworldkitchen.tumblr.com/
---
Giveaway
One free bowl a month for an entire year! As you can see from some of the bowls I sampled below they have PLENTY to choose from for the entire family. Just enter on the form below for your chance to win! (It will load after the collage). Good Luck! Giveaway starts March 7th, 2017 and ends March 28th, 2017 11:59 pm EST. Winner will be emailed & has 48 hours to respond before a new winner is chosen.
Noodles & Company Giveaway
Disclosure: A big thank you to Noodles & Company for allowing us to sample their menu free of charge. All opinions here are my own. Your experience may differ.