Fårikål (pronounced 'for e cul' in English) is Norway's national dish. It literally translates to 'Sheep in cabbage' and is a traditional Norwegian cuisine consisting of layered pieces of lamb or mutton (usually bone-in), peppercorns, a small amount of flour, and cabbage. It is cooked for several hours over the stove top & served alongside whole boiled potatoes. It's an incredibly flavorful stew that's super simple to make and is usually enjoyed during the cool days of Autumn, but also Easter time as well.
I've put my own little twist on this dish to add extra flavor by adding cardamom & browning the meat in butter but it's still super simple and just about anyone can make it. It doesn't photograph well but it definitely tastes fantastic!
---
Fårikål – Lamb and Cabbage
This recipe will feed 6-8 people.
Ingredients:

* 3-5 lbs of Lamb or mutton. (If you're American you can find boneless leg of lamb roasts at places like Sam's Club on sale during Easter)
* 1 head of cabbage
* 3-4 Tbsp flour
* 4 Tbsp whole peppercorns
* 2 medium potatoes per person
Optional: (If you want to go completely traditional omit the following & don't bother browning your meat)
* 4 Tbsp cardamom
* 4 Tbsp unsalted butter
* 1 Tsp salt
* 1 Tsp ground black pepper
---
If you're using a roast, cut the meat into 10 or more medium pieces. (Remove the netting first if it's a roast!).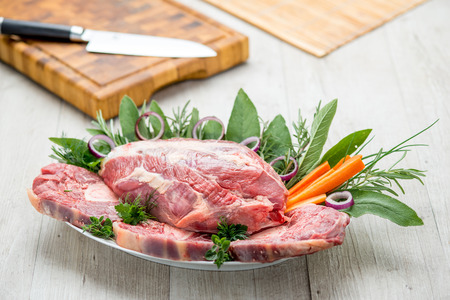 Season both sides of each piece of meat liberally with cardamom, salt, and pepper.
Melt 2 Tbsp of your butter in a large pan on high heat. Brown half your meat, letting it get a dark brown sear. About 5 minutes on each side. Remove.
Thoroughly brown the meat so it has nice color
Melt the remaining 2 Tbsp of butter in the pan & brown the rest of your meat, reserving any liquid in the pan.
While your meat is browning cut the cabbage into 4 and then 4 again. Making 'boat' shapes, not cubes.
In a crockpot or large pot on your stovetop layer meat, 1 Tbsp of flour, 1 Tbsp of peppercorns & cabbage. Make sure to finish with cabbage on top So the meat doesn't dry out).
Pour 2 cups of hot water into the pan you browned your meat in & scrape loose any bits on the bottom. Pour this liquid into your crockpot or pot.
Cook your potatoes about 1/2 hour before finish time!
Cook Time:
No more than 4 hours on high in a crockpot.
2 hours on medium heat on stovetop.
---
Tips:
I like to use my crockpot because there's more room & I can walk away from the kitchen!
The flour added between layers helps to thicken the broth but it could definitely be omitted if you eat gluten-free.
The cardamom & browning the meat in butter help seal in a ton more flavor than if left out.
Don't omit the peppercorns! They're part of what makes the dish so special. You can pick them out easily on your plate or some people even eat them!
---
Happy Eating!