I recently read an article that talked about going on trips with kids & how they love to go to familiar places, even if they've been there a dozen times before. In my own experience as a mother of three it's become clear to me over the years that kids thrive on familiarity and routine. When it comes to something like a vacation or a short trip there's a lot less anxiety when everyone knows what to expect because you've been there before. When you have younger children a stress-free experience can mean everything in the world. Have you ever ridden in a car with a kid during a trip? Need I say more?
So thinking back to my own childhood and taking into consideration the info from the article, I realized it was those trips where my family went 'up north' every single year that I remember & cherish the most. Having pancakes together, walking in the woods, going swimming & fishing. All wonderful memories I connect to a certain little area in Northern Michigan. My Grandparents traveled the entire United States in an RV when I was younger but it's still those yearly trips to the same spot just a couple hours away that I remember the most. I immediately decided I wanted memories like that for my kids!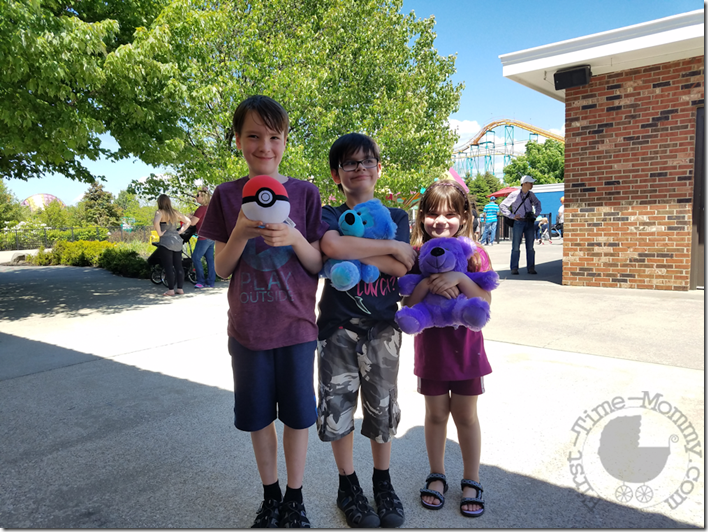 Disclosure: This is a sponsored post. All opinions and experiences here are my own. Yours may vary
Yearly Memories at Michigan's Adventure and WildWater Adventure
Last year my own family traveled from Detroit over to Muskegon Michigan which is about a 3 hour drive and visited Michigan's Adventure and WildWater Adventure.for the first time. It's Michigan's largest amusement park with over 60 rides & attractions. You literally get a full day of activity because with your tickets comes access to Funland Farm (a small petting zoo) and WildWater Adventure, an awesome water park inside Michigan's Adventure that is set up for kids & adults of all ages.
We ended up having a blast last year because they have something for everyone in the family, no matter the age. Because of this I decided to make Michigan's Adventure & WildWater Adventure one of our 'yearly' trips. It's beautiful in that part of the state and very close to Lake Michigan. There's camping, state parks, beaches & other small cities & towns close to the water that you can incorporate into your trip which is what we did over Memorial Day weekend.
Out-of-Town Visitors Guide, Gallery, and Changes in 2017
Last year I wrote a review & out-of-town visitors guide & put together an extensive gallery if you want to check it out and see everything they have to offer & just how much fun my kids had! There are a lot of details on how to make the most of your time & your money.
A few things have changed in 2017. The kiddie area in the waterpark is being completely upgraded. They've ripped out some of the old stuff & they've replaced it with even better things like a Splashpad with a zero-depth play area that includes interactive play features like a sailboat, sea serpent, and other sea creatures, as well as SEVEN new kiddie slides! The changes were made with the environment in mind as well and the newly upgraded area helps reduce water consumption & make the play area sustainable & eco-friendly. They've added extra seating & opened up some spaces well so that traffic can flow better.
#MA100REASONS
If you check out Michigan's Adventure this year make sure to use the hashtag #MA100Reasons as well as #michigansadventure so that everyone can see how much fun you had. I'm going to let the pictures do the talking now! Here are a few pics & vids from our now yearly trip to Michigan's Adventure and WildWater Adventure! The very last pic is of Vincent who rode his very first roller coaster this year!
Check out the ripcord! Would you be brave enough??

Connect with Michigan's Adventure on Social Media
Michigan's Adventure is owned and operated by Cedar Fair Entertainment Company. In addition to Michigan's Adventure, Cedar Fair owns and operates 10 other amusement parks, three outdoor water parks, one indoor water park, and five hotels. Cedar Fair also operates the Gilroy Gardens Family Theme Park in California under a management contract. https://www.miadventure.com
---
Disclosure: This is a sponsored post. All opinions and experiences here are my own. Yours may vary.