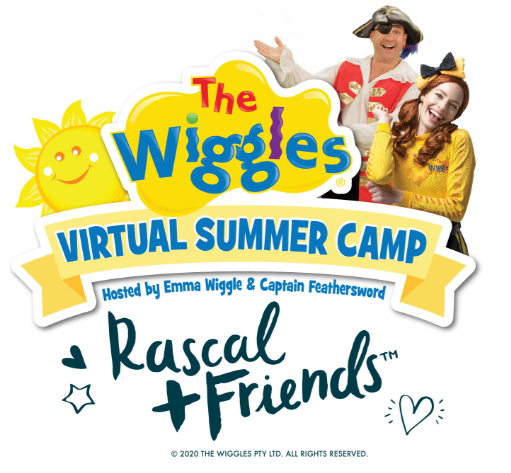 The Wiggles have been busy helping parents keep their toddlers entertained during the ongoing pandemic. They've created several content appropriate videos and songs, and now in honor of Summer, The Wiggles are hosting a Virtual Summer Camp.
Beginning the week of July 14th, The Wiggles will be partnering with Rascal + Friends to present a two-week virtual summer camp for toddlers and their parents, simply called, "Virtual Summer Camp with The Wiggles and Rascal + Friends." The program will be hosted by Emma Wiggle and Captain Feathersword, and promises to keep little ones entertained with arts, crafts, singing, dancing, and some special pirate-worthy prizes.
The Virtual Summer Camp is FREE and will take place LIVE for 20-minute sessions July 14, 16, 21 and 23 from Noon-12:20 pm ET. All sessions will be available to families throughout North America on both The Wiggles and Rascal + Friends Facebook pages. After airing live, all the Virtual Summer Camp sessions will then be available on both The Wiggles and Rascal + Friends Facebook sites for the duration of Summer.
"The Wiggles have been trying to provide as much entertaining and educational content for families as possible throughout this pandemic," said Emma Watkins, the Yellow Wiggle. "We are extremely excited to reimagine the summer camp experience with a virtual twist."