This summer a lot of us with babies and small children learned what it was like to be stuck indoors, thanks to the fabulous heat wave that made it's way across America. Unfortunately being stuck inside (hopefully with an air conditioner) if you're anything like me you learned that your skin can get extremely dry. Almost comparable to what happens when you're stuck inside during winter.
If you've been here for a while you know that I'm a lotion nut. I love to try every kind of lotion I come across. Mostly because it's just so hard to find a lotion that is perfect for me. I also want variety. I like to switch it up once in a while. I love creams. Lotions that are thick and perfect for places like elbows, knees, feet & even hands.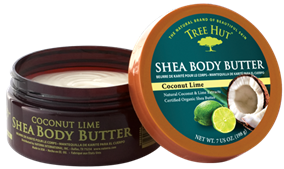 When I opened up the Coconut Lime Shea Body Butter from Tree Hut, don't laugh! I was immediately transported to a tropical island. Oh yes, it smells that good. I figured well, if it smells this good it's probably not going to work. I was wrong. And boy I'm glad I was. I am so happy I was introduced to it because the cream I use now is on the expensive side. I can afford it but I don't like spending that much all the time for the same ol' thing.  The Shea Body Butter is not as thick as my regular cream but it is thick, without being oily. I've even used it on my face. I especially like to use it right after I've taken a shower because it smells so bright and fresh. It really has a wonderful summery tropical scent that just puts you in a good mood the moment you smell it. Best of all, it's very affordable. It comes in several over scents that I can't wait to try, including:
Almond & Honey

Brazilian Nut

Hawaiian Kukui

Original Scent
More About Shea Butter
"Shea butter has an unusually high content of rich natural oils, vitamins and minerals far exceeding the amounts occurring in cocoa butter. Shea Butter improves skin tone, re-hydrates skin, promotes cell rejuvenation, improves skin elasticity and lessens the appearance of wrinkles and stretch marks by providing skin with natural healing agents."
That means it would be perfect for those of you that are pregnant or just had a baby, as well as the rest of us that just have dry skin or love using lotions.
More About Tree Hut Shea Body Butters
According to Tree Hut:
"Our Tree Hut Shea Body Butters are formulated specifically to address dry skin needs. Tree Hut's Shea Body Butter helps regulate moisture, provide deep hydration, soften and nourish the skin. In addition to Shea Butter, our Body Butters contain extracts which naturally contain vitamins, antioxidants and botanical oils. These skin-essential oils and vitamins further enhance the product's ability to deliver its hydrating and skin-smoothing benefits."
Where To Purchase
For a complete list of retailers, please visit the 'where to buy section' on the Tree Hut website. If you are looking for it at Wal-Mart make sure to check the bath section near the loofahs.
Don't forget to check out all the other products Tree Hut has to offer at: http://www.treehutshea.com/
As a personal suggestion I recommend Amazon where amazingly I found the Coconut Lime Shea Body Butter in a 3 pack for $15! That means it's literally 5 bucks a tub. It would be absolutely perfect to give for Christmas or a present at any time.  Keep 1 for yourself and give 2 away!
2 of my readers are going to win a tub of Coconut Lime Shea Body Butter from Tree Hut. Enter below to be eligible!
(Now Closed)
Congrats to Jessica K & Ashley D.
Prize: 2 readers will win a 7oz tub of Coconut Lime Shea Body Butter – Just like the one you see above.
To Enter: Please complete the required task. If it is not completed then none of your entries will count. After that you have several other ways of getting extra entries. Make sure that for each extra entry you do you leave a separate comment. Each comment counts as one entry. Please leave your correct email addy (only I can see it) I will be using it to contact you if you win.  Please be aware that if you are new to this blog your comments may not show up until approved manually.
Required: Check out http://www.treehutshea.com/ then come back here and leave me a comment telling me which product you'd love to try.
2 Extra Entries
* Follow me publicly on Google friend connect (look to the right in my sidebar)
* Follow me on Facebook
* Share this giveaway on your FB and tag my fan page if you know how
* Follow @tree_hut on Twitter (leave your twitter name)
* "Like" Tree Hut on Facebook (Please let them know I sent you)
* Grab my new button and put it on your site (I'd love to exchange – let me know)
* Like this post:
5 Extra Entries
*Subscribe to my site by Email or RSS then check your mail to confirm it (leave 5 separate comments to count as your extra entries)
1 Extra Entry Per Day
* Follow me on Twitter @detroitmommy then copy this and tweet it:
RT @detroitmommy Tree Hut Coconut Lime Shea Body Butter Review & Giveaway (2 winners) http://bit.ly/q8IIDO
*Make sure to leave me a comment with a link to your tweet. You can come back each day and retweet for 1 extra entry per day. Just make sure to leave a comment each day you do it! (You can also use the green RT button at the top of this post)
(Don't know how to show me you RT'd? Just place your mouse directly under your tweet where it says "1 minute ago from web" and click to get the URL of your status update. Copy and Paste.)
Good Luck!
Giveaway is open to residents of the US 18 yrs of age or older. This giveaway ends: Wednesday August 31,2011 12am EST. Winner will be contacted as soon as possible and announced thereafter on this post. Winner has 48 hrs after receiving email to respond otherwise I will choose another random winner. I will be using random.org to do this.

Disclosure: I received the above product to facilitate this review. No monetary exchange took place. My opinions are my own. Your experience may vary.