Due Date: December 13, 2010
Birth Date: December 18, 2010
Weeks: 41
Mom: Ashley D.
My birth story begins when I was a week overdue!  I went in to my doctor's office for my appointment 1 week overdue (Dec 17th). They did the stress test then an ultrasound and checked me. I was 2 cm dilated and 65% effaced, but I had a low fluid level so my doc wanted to induce me! They scheduled the induction for 10 pm that night. I left the doctor's office around 5 pm and they told me not to eat anything just in case I had to get a C-section (that was the beginning of a big problem lol) So, my hubby and I met my mom and sister's at the hospital and we got things started.I really wish I was told BEFORE my mom and sisters came to the hospital that I would be induced slowly through the night so I could sleep (yea right lol).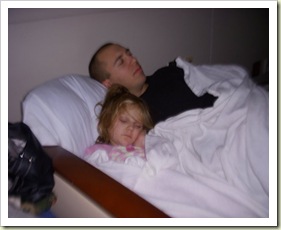 So it was a looong night haha but I wasn't having many contractions but I couldn't get comfortable to sleep. Around 12 pm the following day (Dec. 18th) my midwife checked me and I was 75% effaced and 4 cm and I was having horrible back pain so they knocked the Pitocin down and had me stand facing the bed and leaning on the bed to help the baby move (which worked!).  Then they again upped the Pitocin. By this point I was STARVING and my midwife was mad that they told me not to eat! So I got to eat Italian ice, chicken broth, and water : (
Around 4 pm my midwife checked me again and I was still only 4 cm so they broke my water and that is when the contractions really started coming. I absolutely LOVED sitting on a medicine ball and my sister rubbed my back while my hubby drenched me in cold water and fanned me! Then around 7:30-8:00 the pushing began! They gave me some stupid pain medicine that did NOTHING but make me drowsy! So I was falling asleep in between contractions and pushing! She was face up so with 2 hours of pushing she finally came out!
At 9:27 pm December 18th Jasmine Love Dunning entered the world at 8lbs 2 oz and 20.5 in long 🙂 I was so tired and soo happy! The best moment of my life!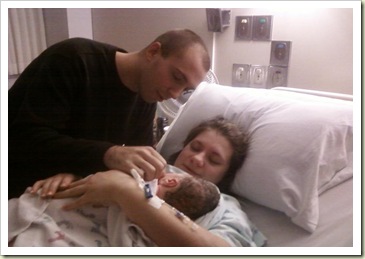 Thank you to Ashley for sharing this special experience with us. If you'd like to share your birth story please send it and up to 4 pictures to detroit.mommy (at) gmail (dot) com