Have I told you yet that I'm a secret foodie? Of course I did. Well tonight I'm going to share one of my favorite recipes with you. Rosa Marina Soup. It's a delicious tomato basil soup that can be cooked like a soup or a pasta dish to make it easier for small kids to eat. (Let's just be truthful, pasta = less messy than soup!) It's also very cheap to make.
Just recently I was contacted by a representative of Red Gold Tomatoes and asked if I'd like to try some of their new products & participate in a small contest they have going on. They will be inviting bloggers to the Taste of the NFL. a fund-raising, food and wine tasting event the weekend of the Super Bowl. The bloggers will also be invited to the Red Gold Tomatoes headquarters to learn all about growing and cooking exceptional tomatoes.
So what makes me so interested in this? Well, it's not the NFL to be truthful. I'm hoping to learn quickly since I have 2 sons though! It's more the fact that some of Red Gold tomatoes are actually grown in Michigan (the great state where I live) and Taste of the NFL raises money for food banks across the country, including Gleaners Community Food Bank of Southeastern Michigan. I love giving back in any way I can and I love buying local.
Now I'd like to set something straight before I go any further. I'm all about fresh food and supporting local farms. In the summertime we get almost all of our fruit & veggies at a local stand, but in the winter I rely on canned tomatoes, like Red Gold. It's fast, convenient, and because they're packed at their peak they're just as delicious as fresh.
So, let's get down to this delicious recipe. Shall we?
---
Rosa Marina Soup
Ingredients:
2 Tbsp Butter Or Margarine
1 Sm Onion; Finely Chopped
1 Rib Celery; Finely Chopped
2 Cloves of Garlic; Minced (I use organic pureed squeeze garlic)
1 Can Red Gold Tomatoes with Basil in Puree (28 Oz)
1 C Uncooked Orzo (Rosa Marina)
1 Tsp Salt (more or less to taste)
1 Tsp Pepper
2 C Warm Milk
Makes approximately 6-8 servings. (full bowls!)
We start out with Orzo pasta. If you're not familiar with it you can find it in the imported food area of your local grocery store, not the pasta sauce aisle.
Measure out a cup
Cook orzo according to package directions. Approximately 10 minutes. Drain.
ORZO PASTA
Our second most important ingredient is a 28oz can of Red Gold 'Culinary Classics' Tomatoes with Basil in Puree. They are ONLY located at Meijer stores. If you can't find these (because they're only in select markets) you can substitute a small can of Red Gold Tomato Puree and a small can of Red Gold Crushed Tomatoes & then add in your own basil (to taste).
Empty your can into a pot and add 1 tsp of salt. ( I cook low sodium so you may like more).
In another small pan melt your 2 tsp of butter or margarine. Add in your celery, onions, and garlic. Cook approximately 5 minutes, until the onions are somewhat translucent.
When done add all (including that melted butter) to your pot of tomato puree.
Red Gold Tomatoes with Basil in Puree – Look at the gorgeous color.
Warm up 2 cups of milk in the microwave for approximately 1.30 minutes, add it to your Tomatoes with Basil in Puree.
Add in your cooked Orzo pasta.
Let pot simmer and reduce (it will thicken the longer you cook it) on low (don't boil it) while you finish the rest of dinner. Approximately 1/2 hour.
Rosa Marina Soup minus Orzo – Nice and creamy just like a classic tomato soup
I serve my Rosa Marina soup with Italian bread grilled cheese with provolone & an antipasto salad.
As you can see by the picture my soup is more like a pasta on this occasion. The kids like it that way as it's much easier to eat for a 3 and 1 yr old! If you want yours to be more like soup (the traditional way) only add 1/2 cup or less of orzo!! It expands more than you think it would.
Provolone Grilled Cheese, Rosa Marina "soup" and Antipasto salad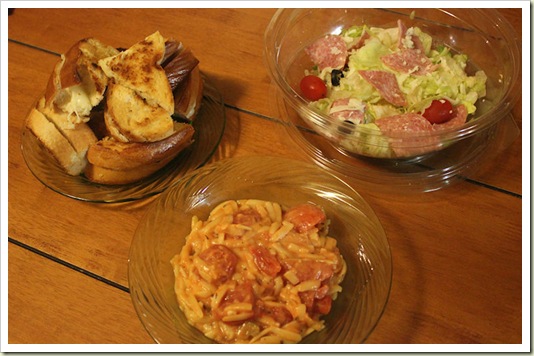 Yummm