A few weeks ago I received the Summer Beauty Vox Box from Influenster. You remember Influenster, don't you? For those that don't know, I introduced my readers to them last summer before they really took off and became a bit hit. If you haven't joined already make sure to read up on what they're all about.
Inside this wonderful little box of free goodies I received a Quaker Soft Baked Banana Nut Bar. I looked at it and thought "oh man.. I guess I can give it to my husband". You see I don't eat many bananas. My middle son Aidan is highly allergic to them. One bite and he'll end up in the hospital. Since finding out he was allergic to that and palm kernel oil when he first started solids, I have rarely consumed a banana product. I was nursing him so for obvious reasons I chose to leave it out of my diet. Thing is… I looooove bananas. However, banana bread is my most despised form of banana. My mom makes it during the holidays. Everyone gobbles it up, except me.. unless I'm really really hungry.
So I found myself staring at this bar one day as I was about to run out the door, totally famished. What the heck, right? I hesitantly opened it up and took a bite. Much to my surprise this didn't taste like any banana nut bread I'd ever had. This was soft, yet had crispy bits of almond on the top and oatmeal on the inside. Oh my gosh this bar rocked. After checking the ingredients I also discovered it had crispy soy rice in it as well, which must be what gives it that extra bit of crunch that I found so yummy.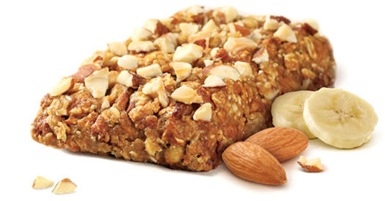 These delicious little bars of goodness contain:
140 Calories
5g of Fiber
6 grams of protein
20% daily value of 5 B Vitamins
They also come in Cinnamon Pecan Bread flavor.
Grab A Coupon
Grab a coupon for 75 cents off 1 box while they last.
Where to Buy
You can find Quaker Soft Baked Bars at most major retailers. The suggested retail price: $3.29 for a box of 5 bars.
Connect Online
@Quaker on Twitter
Disclosure: I received the above product for complimentary review & testing purposes through Influenster. Want to learn more about Influenster and how you can join? Make sure to read this post.