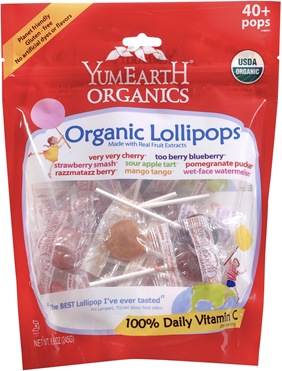 We recently had the opportunity to try out YumEarth Organics Lollipops. Well, actually I'm still trying them out. I'm eating one as I write this! Sssh don't tell my family. They keep trying to steal them all.
YumEarth are the first organic lollipops I've ever tried. I can't even begin to describe how yummy they truly are. Their name fits them perfectly. The moment I opened the bag everyone in the house came running. When I woke up the next day I found wrappers stashed around the house in various places. As it turns out my husband was the culprit. He loves candy. The next day my 4 year old was sneaking around my office trying to find them. After a few days I noticed the bag was significantly lighter. I actually had to hide them 2 or 3 times! My favorite flavor? Pomegranate pucker! coming in a close second? every other flavor. I really love them all so it's a good thing they each have less than 25 calories a piece.
My favorite thing about these lollipops in general is the fact that they're organic and have very few ingredients. That means Aidan, my middle son who has some very unique allergies (like palm kernel oil which is in everything!) can eat them. Most of the time I have to buy him separate "treats" than everyone else so I'm really glad we found something that we can all share.
More About YumEarth Lollipops 
"YummyEarth, the #1 organic candy company in the US, is excited share that the popular YumEarth Organics Gummy Bears and YumEarth Organics Lollipops are launching at Target.
YumEarth Organics Gummy Bears and YumEarth Organics Lollipops are made with real fruit juice and other planet-friendly and natural ingredients. They contain no artificial colors or flavors, no major allergens, such as gluten, nuts and dairy and no high-fructose corn syrup. Each serving provides 100% of daily vitamin C and has less than 70 calories.
 
YumEarth Organics Lollipops come in eight mouthwatering flavors:
Very Very Cherry
Too Berry Blueberry
Strawberry Smash
Sour Apple Tart
Pomegranate Pucker
Razzmatazz Berry
Mango Tango
and Wet-Face Watermelon. 
Where To Purchase
You can buy YumEarth Lollipops and other products directly on their website: http://yummyearth.com/ or you can find them in local stores! Make sure to look for them in Target!
Want to win your own bag? Make sure to enter below.
---
Prize: 1 bag of Yummy Earth Lollipops (40 pops)
How to Enter: All you have to do is tell us in a comment which flavor you want to try the most, then fill out the rafflecopter form below. (please wait & the form will load).
Attention: If you choose to follow YumEarth on Facebook make sure you tell them I sent you! Each 100th fan & the person who recommended them will win an assortment of candy!
Good luck!   Any questions or problems entering please leave a comment here or on Facebook and I will get back to you.
Disclosure: This review was made possible by Mom Spark Media. Thoughts are my own. All prizing for MSM giveaways is handled by a third party unless otherwise noted. For this reason prize fulfillment can take up to 90 days after the winners information is received.