You've seen me mention my Samsung Galaxy S3 several times over the past couple of months, as I've shared pictures and videos with you on Facebook, and as most of you know I am in a program called Midwest Saavy Moms with Verizon. I've been reviewing the phone now since Silje was about 6 weeks old & as of now I don't think I could live without it. It's really that great.  One of the coolest features of the phone is that you can set up your own Wi-Fi hotspot & connect other devices to it, like your laptop.
What a lot of people don't know is that Verizon also have a dedicated device that can do this very thing without the need for a phone. It's called a Jetpack. So why not just use a smart phone? Well, A Jetpack provides the best battery life experience compared to Mobile Hotspot on a Smartphone (which can consume battery power extremely fast). Let me tell you a little more about it. Then make sure you scroll down to enter one of your very own courtesy of Verizon Wireless!
---
Verizon JetpackTM 4G LTE Mobile Hotspot MiFi® 4620L
Multiple Device Connections
Jetpack™ fits customers who often want to connect 2 or more devices for extended data sessions.
Flexibility
The entire family can stay connected to the Internet without relying on a Smartphone user to be home for use of their Mobile Hotspot feature.
Portability
Family members can connect all their WiFi capable devices connected in the car on a road-trip.
Traveling coworkers can share a connection while awaiting flights at the airport.
Worldwide Connectivity
Access the Internet when roaming outside the U.S. in more than 205 countries.
More than 150 of those countries support 3G data speeds.
Interactive Display
Easily view signal strength, network status, battery indicator, SMS, and the number of devices connected right from the device's display.
Share Everything ?
For only $20 a month, Jetpacks offer a cost-effective and mobile Internet connection.
---
Features:
4G LTE Mobile Broadband

LTE: Typical download speeds of 5?12 Mbps and upload speeds of 2?5 Mbps.

Global ready for data use in over 205 countries

Connect up to 10 Wi?Fi® enabled devices at one time in 4G mode, up to 5 devices in 3G mode

Not compatible for prepaid usage

Interactive OLED display

User?Friendly Web UI: No Software to install

VPN Capable

Most Advanced Security Features
---
Prize: 1 lucky First-Time-Mommy reader is going to win one of these neat little devices. Here's what you'll get: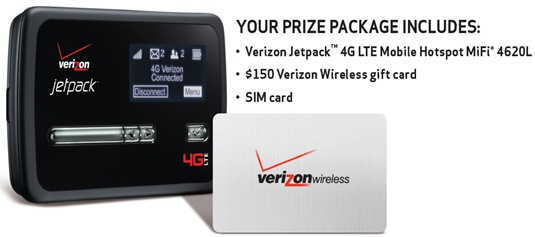 You can use the gift card to purchase other equipment or use toward bills & don't worry you will receive instructions on how to activate the device.
How to Enter: Just scroll down to the comment section directly on this blog and leave a comment telling me why you'd like to win this giveaway. After you leave a comment then fill out the Rafflecopter form (it will pop up after a minute). Any questions just leave a comment or ask on Facebook.
Giveaway ends October 1, 2012. Winner has 48 hours to respond to my email so make sure you check whatever email you use to sign up with!
Good Luck!
Disclosure: I am participating in the Verizon Wireless Midwest Savvy Moms program and have been provided with a wireless device and six months of service in exchange for my honest opinions about the product.