So during talk of black friday someone on the First-Time-Mommy.com Facebook page suggested I sign up for EBATES.COM before I did my shopping. I was skeptical, as always. I feel like I've signed up for a million things & only a fraction ever pay off.
---
So, I joined Ebates.com & was immediately told to select a free $10 gift card and that I would get it the first time I purchased $25 worth of stuff. Could it be true?
---
I then searched out Kohls on the site & went through the ebates link & began shopping for my kids Christmas gifts. Ebates was offering double cash back for some stores. I used it for Toys R' Us as well & racked up some nice cash back! $23 is a box of diapers hello!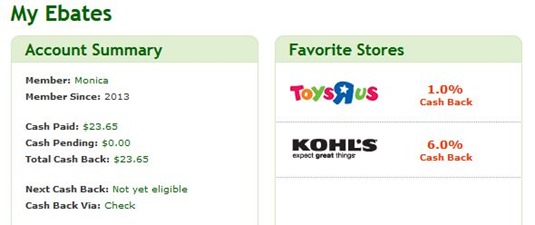 ---
With one of the deals I did I was able to get the family a Polaroid Android Tablet from Kohls for only $15.88. How you wonder? It was on sale for $99 & then I had my cash back from ebates, free walmart gift card from ebates, a rebate from Kohls, and Kohls cash plus free shipping too!
So before Christmas even arrived I got my free $10 Wal-Mart gift card in the mail from EBATES.COM! Woot. Here it is:
and my first "Big fat check" from Ebates is now on the way. You can choose to get your cash back through check or paypal & it comes every few months. Very convenient.
They have over 1600 stores on their list, including Amazon & even Groupon! I encourage you to take advantage of any cash back you can get while shopping online. Raising kids is expensive & every dime counts!

I'm definitely going to be checking Ebates.com before I do ANY online shopping at all. It most certainly pays.
Happy Saving!
. . .