This is a sponsored post for Prince Lionheart.
Not long ago Prince Lionheart introduced us to theBOOST Plus. It's their version of a booster seat. It came at a perfect time because my daughter who is big for her age at 2.5 years old was starting to outgrow her high chair. She also desperately wants to be part of everything her 4 and 6 year old brothers are doing, and that includes mealtime. We always eat at the table together as a family for every meal, no exceptions. Unfortunately the youngest of the bunch has always been left sitting back a ways in a corner in their high chair. We have a tiny kitchen and that's the only place it really fits.
So I reluctantly started letting Silje sit at the table with everyone else a little sooner than we usually do. However sometimes it can be a challenge. She sits on her knees, she reaches for things and accidently knocks them over or, our biggest issue, getting up & down off the chair while we're eating, which I'm not too fond of. So we tried out theBOOST Plus and so far we absolutely love it!
---
Goes Together Quickly
It was super easy to put together straight out of the box. Only 3 pieces. Simply push the top/back of the chair into the bottom & then there's a small optional table that can connect to the chair (and you can set it in multiple positions). You'll also need to thread some of the straps through and adjust them (but only once). Since there aren't many parts & the box is not ridiculously big this makes it ideal to take with you to those family dinners at friends & families houses this holiday season. Plus it only weighs a little over 4 lbs!
Dual Strap System
theBOOST Plus has a dual strap system which keeps the booster positioned on the chair safely. You simply take the first set of straps and place them around the back of the chair & snap the buckle. You then take the 2nd set of straps and wrap them around the bottom of the chair & snap together. There is plenty of room for adjustment to the straps as you can see. If you don't want those straps hanging around & it's going to be on the same chair regularly a simple solution would be to add a little velcro to the ends of the straps.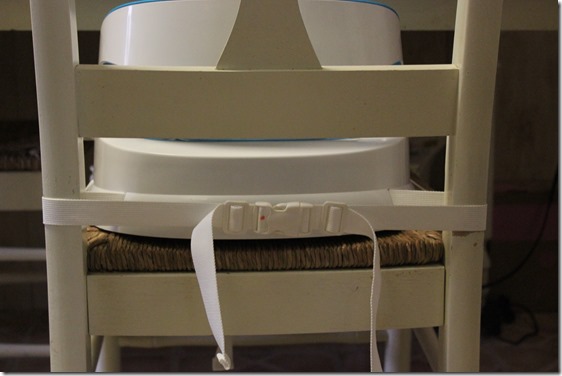 Optional Tray Table with Multi Directional Adjustment
As you can see Silje is pretty big for 2 years old. She's currently in 4T so keep that in mind. She looks huge in this chair but she fits really comfortably and she loves it. Our kitchen table is a little bit high so we choose not to use the optional tray but it would be pretty handy for a smaller child. To clean seat or tray simple wipe with a damp cloth. There are not a lot of crevices for food to get stuck either which is a huge plus!
You can also see here the additional strap that goes below each side of the chair that I mentioned above.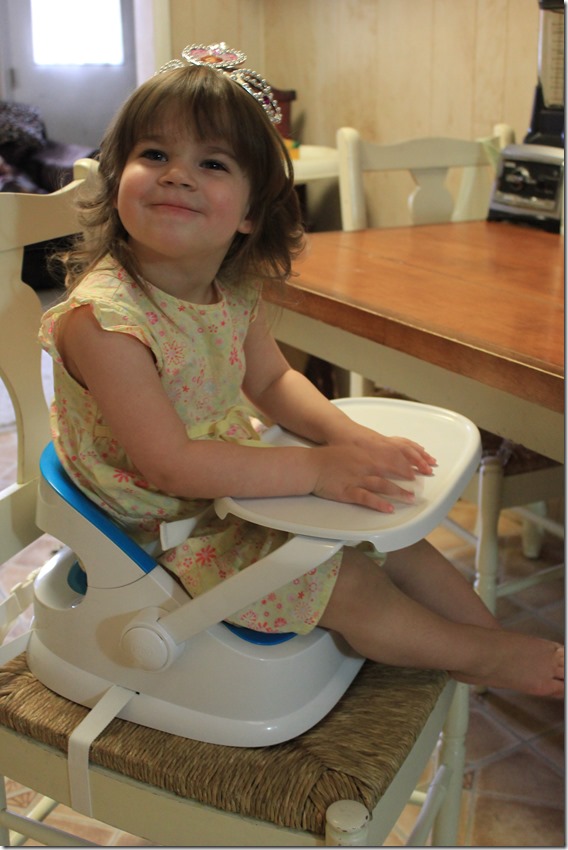 Back View
As you can see without the optional tray she can be pushed right up to the big table & fits nicely. When she's completely strapped in she's secure so I don't need to worry.
Comfortable as Can Be
Here she is placed right up to the table. She feels just like one of the big kids. She's able to climb up into the chair herself at this age, be strapped in, and on this day she got straight to work coloring a picture for her mommy.
I can't wait to let Silje share the table with us this coming Thanksgiving and Christmas thanks to theBOOST Plus. Need a booster for your baby 12+ months? Here's a little more info!
theBOOST Plus comes in 4 stylish colors
Berry Blue

Galactic Grey

Flashbulb Fuchsia

Gumball Green
Where to Purchase
theBOOST Plus from Prince Lionheart retails for $45.00. You can find it most major retailers offline & online. You can also purchase it directly from the Prince Lionheart website as well as Amazon.com
---
Connect Online with Prince Lionheart
---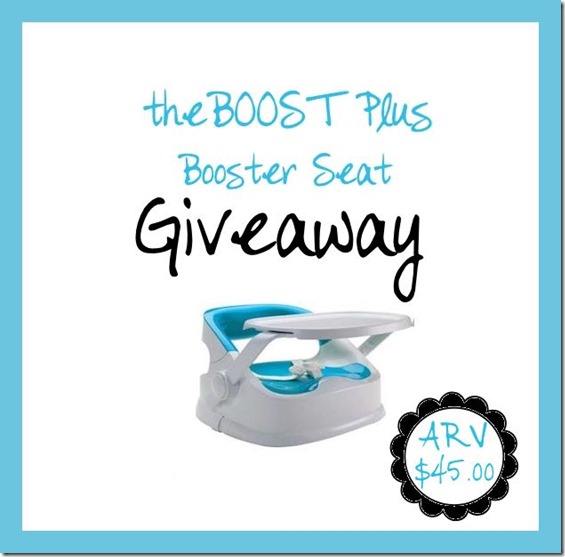 Prize: 1 reader will win a BOOST Plus seat of their own.
Rules: 18+, US ONLY, You must leave a blog comment AND fill out the rafflecopter form. (Your email is not visible to anyone but me). Giveaway ends November 30, 11:59pm EST. Winner's emailed December 1st. Winner has 48 hours to respond to winning email once they receive it. (If you sign into the form with Facebook please remember that you will need to check the email associate with FB as that is where I will be emailing you. Instructions below.
Instructions:
2 Steps!
Tell me in a comment directly on this blog:
1. Why you'd like to win one of these seats.
2. Fill out the rafflecopter form that will load up below this text. (This is how I keep track of entries & make sure there is no cheating – don't forget to do/claim the extra entries!).
a Rafflecopter giveaway
GOOD LUCK!
---
Disclosure: I received the above product in order to facilitate this review. The views and opinions expressed here are my own. Yours may vary.
---