This past weekend I had planned a fun little barbecue/picnic with my family at the park but alas it was not in the cards, as the weather decided not to cooperate. We didn't let that stop us though, we had a picnic indoors and I let my 7 year old, Vincent, help me prepare everything. He's really into cooking these days. I have encouraged him as much as possible by allowing him to come into the kitchen with me and teaching him a few things here and there. I had to get over my fear of him making a mess, and it was hard, let me tell you, but it's really brought up his self esteem a lot and I can see the pride in his eyes when he see's with his own eyes what a great job he's done.
Because the following is such an easy recipe it was perfect for him. By incorporating a lot of different colors and options in our food and teaching him how to plate foods so that they look tempting, he's more willing to try new things because he put effort into creating them. Even little brother & sister are more apt to try new things because they look up to big brother & want to be just like him. Sneaky mom aren't I?
For this recipe you'll need to head to your local store and pick up New Steamfresh® Protein Blends – Southwest Style. We also threw in the new SteamFresh Flavor Full Barbecue Corn and Buffalo Cauliflower to have on the side. How could I resist? I picked mine up at my local Meijer, and as I explained to you last week, you can find these right in the freezer section! My local Meijer had just about every Birds Eye product imaginable.
A little About Southwest Style Protein Blend
New Birds Eye® SteamFresh® Flavor Full Protein Blends – Southwest Style consists of a blend of whole grains, black beans, corn, lentils, red bell peppers, and sauce. It smells sooo delicious coming out of the bag you'll be tempted to dig in right there, and because it already has it's own sauce you don't need to add extra spices unless you want to.
---
Southwest Turkey Burger
with
Avocado Ranch Dressing
Cook up your SteamFresh® Southwest Style Protein Blend in your microwave on a microwave safe plate. It steams right in the bag & takes approximately 4-5 minutes. Be careful as the steam can be hot. Pour it into a bowl and let it cool for 3-4 minutes.
Mix Southwest Style Protein Blend in with 1/2 lb of lean ground turkey.
Shape mixture into 6 individual sized patties. Don't make them too flat or they won't be as juicy.
I love to use my faux grill pan for the traditional grill marks. I cooked these for approximately 8 minutes on each side. In the end I throw a little hot water in the pan & cover them to let the steam continue to cook them. I'm as stickler for well done meat when I'm feeding my kids. You can never be too safe.
Now here's where the kids can have fun & help out. Letting the kids measure out the ingredients is a great way to help them brush up on their math skills. Gather together:
1/2 Tbsp Ranch dressing powder

3 Tbsp of mayonnaise
1/2 Cup of milk (I used 2%)
1/2 Avocado (whole if you want deeper flavor)
1 Lime.
Mix all the ingredients except the lime thoroughly in your blender or food processor for approximately 2 minutes. Squeeze in the lime & mix in by hand. The citric acid in the lime will keep your dressing bright green & should last for days. If you have extra, which is very unlikely. Use any leftover lime juice to top the other half of your Avocado that you didn't use.
Make sure you take lots of pics of the kids helping out! You can never have too many.
You're going to love this Avocado Ranch Dressing!
That's it!! Start dressing your burgers up however you like. Some of us are fond of buns and some of us eat lower carb, both ways are delicious!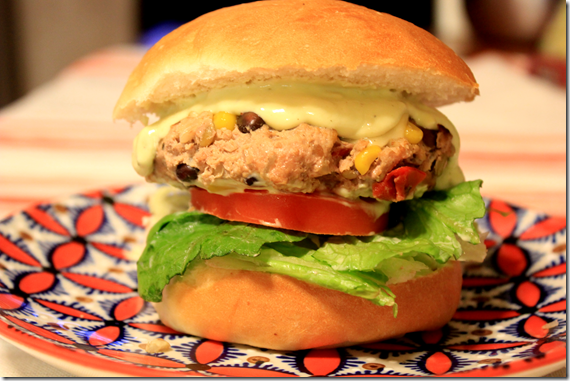 I eat mine on a bed of lettuce & use the Avocado Ranch Dressing all throughout. Mixed with the Southwest Style veggies, it's soooo good. It's like a southwest salad!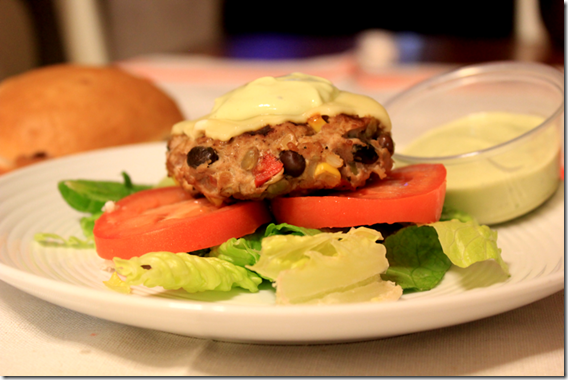 Don't forget your sides! We tried the new Buffalo Cauliflower. It was a bit spicy but personally, I loved it! It's so colorful!
That's it! Simple, delicious, and quick in around 20 minutes.
Enjoy!
---
Birds Eye® new products: Steamfresh® Flavor Full and Steamfresh® Protein Blends – in 8 varieties!
This is a sponsored conversation written by me on behalf of Birds Eye® . The opinions and text are all mine. Comments submitted may be displayed on other websites owned by the sponsoring brand.