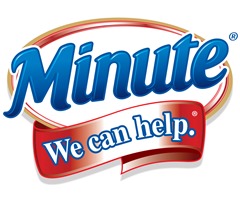 "Whether you're a working professional or a stay at home mom, a busy day focused on meetings, errands, and kids can keep you from eating a nutritious lunch. That's where Minute Rice comes in. Minute® Ready-to-Serve Rice is ready in just 60 seconds and comes in individual single-serve cups, making portion control simple. Throw them in your purse or keep in your desk drawer at work!

When the day finally calms down, making a well-rounded dinner might seem like too much work. Minute® Whole Grain Brown Rice is an easy and hearty meal addition that's ready in no time at all."
I was graciously provided the opportunity, courtesy of Minute, to try out their Ready-to-Serve rice & pass my experience on to you. I have a hard time with portion control. It's probably my biggest obstacle in losing the remainder of the baby weight I packed on with my first son. If there are leftovers I tend to eat them, for that reason I love that Minute® Ready-to-Serve Rice comes in individual servings. Of course in a house with 3 kids who all have varying tastes individual servings make things easier as well. With the individual servings I find that I don't waste nearly as much as I used to because everyone can get what they want. On top of all this, as you might have guessed, my house is quite busy at meal time. Thankfully Minute® Ready-to-Serve Rice only takes 60 seconds & it's done! It's great to keep a few in the cupboard for those days we're running low on time.
I'm personally a huge fan of Jasmine rice so I was really excited to see that Minute® Ready-to-Serve Rice now comes in Jasmine as well as a large variety of flavors.
Ready to Serve is Available in 10 Varieties
---
Check out a couple of my favorite recipes using Minute® Ready-to-Serve Rice :
For a Quick Lunch:
Hawaiian Rice
Serves: 2 (about 1 cup each)
Ingredients:
1 container Minute® Ready to Serve White Rice or Minute® Ready to Serve Jasmine Rice
1/2 cup cooked low sodium ham, cubed
1/2 cup fresh or canned pineapple chunks
1/4 cup cooked green peas or sugar snap peas
1 teaspoon sesame oil
1 teaspoon soy sauce
Directions: Prepare rice according to package directions. In a medium bowl, combine rice, ham, pineapple, peas, sesame oil and soy sauce; mix well. Garnish with toasted sesame seeds and chopped cilantro, if desired.
---
Dinner:
Yummy Orange Chicken and Rice
Makes 4 Servings
Ingredients:
1 jar (12 ounces) orange marmalade
1/2 cup orange juice
1/2 cup water
2 cups cooked chicken, grilled or roasted (Alternative: try 2 cups of cooked turkey)
1 large orange, washed and thinly sliced
1 cup frozen sugar snap peas, thawed
2 cups cooked, Minute® White Rice or Minute® Whole Grain Brown Rice
Directions:
1. In a small sauce pan add in: marmalade, orange juice and water. Simmer until blended and reduced about 50 percent. It should be like syrup.
2. Add chicken, orange slices and peas until all are hot.
3. Serve over rice. If desired, sprinkle with slivered almonds.
---
Where to Purchase
Minute Whole Grain Brown Rice and Minute Ready-to-Serve Rice can be found at your local Walmart and other major grocery stores.
You can check out all the Minute Rice products & find more recipes on their site:
---
Prize: 2 readers will each receive 3 coupons each for a free Minute Rice product.
How to Enter: 2 Step Process!
#1 Leave a comment directly on the blog answering the following question:
"What is your favorite flavor of rice?"
#2 Fill out the rafflecopter form (It will load directly below this text) Good Luck!
Any questions connect with me on Facebook or leave a comment & I will get back to you.
Disclosure: I received the above product in order to facilitate this review. Information & images provided by Minute. Opinions & experience are my own. Yours may vary.
.
.