This is a sponsored conversation written by me on behalf of Huggies. The opinions and text are all mine.
Despite the post title, as of 1 month ago my youngest, Silje is technically no longer a baby. *sniff* Yep. She turned 1 years old on June 8th. I can't believe it's been a year already. Can you?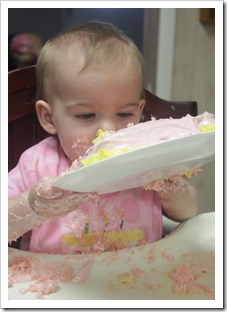 If you remember in May I was just talking about how she had started walking at 9 months & we had recently started using Huggies Slip-On Diaper pants because she was now able to stand & actually help me get herself dressed. At the end of the post I asked you when you realized your baby wasn't a baby anymore. Well, it really hit me hard after we celebrated her 1st birthday that my baby girl isn't a baby anymore, she's a toddler for sure.
After my last post, the milestones just kept coming. Not soon after walking she was climbing up on the couch & was able to get down again without falling down. After that she was actually able to climb down from my bed all by herself! She's taken a big interest in all things food. Meaning she wants anything & everything that someone else has in their hands & is not shy about asking. She also prefers to take a shower just like her brothers rather than be in her baby bath. She loves to snuggle her Mama but not for too long, she's too interested in learning about the world around her.
Silje tries so hard to keep up with her brothers. She laughs like them, plays with their cars & toy robots just like them. She even drinks out of regular cups, and just the other day she asked me to put her on the toilet!! Lol. Sounds so silly but she did. She see's her 2 year old brother getting praise for going potty on the toilet & she wants to try it too. But all I want is my baby girl to stop trying to grow up so fast!
Even though I don't want to see her grow so quickly I do look forward to seeing what the next year brings! Baby Milestones are an awesome thing for a parent to experience, even if they are a tiny bit bitter-sweet.
More About Huggies Little Movers Slip-On Diaper Pants
If your baby is standing, stop changing and start dressing them with HUGGIES® Little Movers Slip-On® Diaper Pants. An outstanding fit for your standing baby. With a diaper that slides on easy and comes off easy too, your baby is ready for anything. Schedule your first fitting today." For more information, you can go here!
This is a sponsored conversation written by me on behalf of Huggies. The opinions and text are all mine.