Awesome news. The Walt Disney Studios and Google Play announced a partnership today enabling millions of U.S. Android users to enjoy their Disney, Pixar, and Marvel digital movie collection across their devices through the Disney Movies Anywhere app and website.
"Our partnership with Disney now gives Google Play users the ability to conveniently watch all of their Disney, Marvel and Pixar digital movies that have been purchased from any Disney Movies Anywhere participating retailer," said Jonathan Zepp, head of Google Play Movies partnerships."

Disney Movies Anywhere is an engaging and family-friendly digital destination that makes it simple for consumers to manage and enjoy their digital collection of Disney, Pixar and Marvel movies in one place, at home and on the go. The integration with Google Play means that it's easier than ever for consumers to buy the films they love, and then enjoy them through the free Disney Movies Anywhere app and website, as well as everywhere Google Play Movies is available.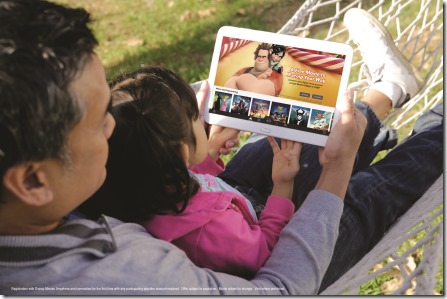 In Disney Movies Anywhere, consumers can:
Explore Disney's library of over 400 active digital titles from Disney, Pixar, and Marvel
Preview upcoming offerings
Enjoy hours of free new and exclusive short-form content
Discover curated content based on their individual preferences.
In addition to browsing titles available for purchase, consumers can redeem Digital Copy codes found in Disney, Pixar, and Marvel Blu-rays and DVDs directly in Disney Movies Anywhere, as well as earn Disney Movie Rewards points for digital purchases.
Free Digital Copy of Wreck-It-Ralph
For a limited time, Disney Movies Anywhere users who connect a new participating retailer account will receive a free digital copy of Disney's hit animated film "Wreck-It Ralph." Just download the Disney Movies Anywhere app and link to your Google account.
More About Disney Movies Anywhere
The Disney Movies Anywhere App is available in the U.S. for free from the Google Play store and from the iTunes App Store at: Sign up is also available through the Disney Movies Anywhere website.
---
.