Disclaimer: I am a Hyland's Homeopathy Ambassador and receive various products and gift cards from Hyland's and promotional partners at no cost to me. All views and opinions expressed on this blog post and corresponding social network mentions are my own and are not to be interpreted as medical advice.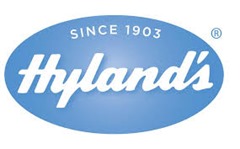 It's officially summer. Yay! For me summer brings back memories from my childhood. Staying up late, sleeping in, camping, fishing, weekend road trips, going to the zoo, visiting museums, ice cream, hanging out at the beach & by the pool. So many fun times.
Now that I have my own children I'm making even more memories as well as helping them make their own. It's such a special time. With 3 children under 5 things can get wild, crazy & a whole lot of fun. Throw in a teething baby though & it can put a damper on things very quickly. That's why I love Hyland's teething tablets.
So far I've had 2 children that have had a very hard time teething. By the time my oldest son Vincent first started teething summer was in full swing. Hyland's teething tablet's really helped him a great deal. In fact for us they were pretty much the only thing that worked consistently. Now, 5 years later Silje, my 1 year old is taking her turn at teething and it's not going over so well. I can't begin to tell you how well Hyland's teething tablet's have been working for her. They've really saved the day more than once & allowed us to continue making fun summer memories, tear-free. They will definitely be going with us wherever we go this summer.
Hylands Homeopathy wants you to tell them about a favorite summertime memory & how a Hyland's product helped enhance your summer fun. Read below to find out everything you need to know to enter.
---
To Enter:
Fill out the comment box with no more than 200 characters including spaces about how a Hyland's product helped you and/or your family better enjoy summer. Ie: Did Hyland's bug bite ointment help you during camping? Did Hyland's teething tablet's keep baby tear-free at the family reunion? You get the idea.
Tell Hyland's I sent you! As you know I am an ambassador for Hyland's. Please let them know that I sent you by filling the appropriate box in with 'First-Time-Mommy' when you see it. Thanks!
---
Winner & Prize Info: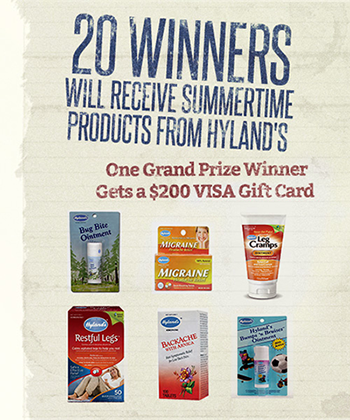 Hyland's will choose 20 random summertime stories to feature in their new Hyland's Favorite Summertime Memories video.
Everyone who is randomly chosen for the video will receive a Hyland's summertime survival package featuring some of Hyland's products geared to make summer more enjoyable. The Summertime Survival Package includes:
Hyland's Leg Cramps Ointment ($8.59)
Restful Legs ($7.69)
Migraine Headache ($8.19)
Backache with Arnica ($10.49)
Bug Bite Ointment ($8.19),
Bumps 'n Bruises ($8.29)
Hyland's Drawstring Backpack ($10)
Grand Prize:
One random grand prize winner will receive a $200 Visa Gift Card so that they can use it to enjoy their favorite summertime activities.
Contest ends on July 12, 2013 and the video showcasing the winners will launch will July 15, 2013. Good Luck!
---